In this story:
ECH announces new village
BlueCross opens Box Hill facility
Uniting Communities unveils CBD development
Catholic Healthcare completes refurbishment
ECH announces new village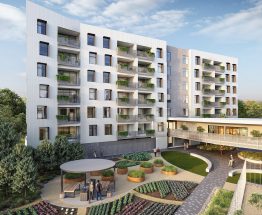 South Australian aged care provider ECH has received the green light from the City of Tea Tree Gully to build a $42.5 million vertical retirement village in Modbury, Adelaide.
The village includes 77 two-bedroom apartments and a range of integrated community amenities, such as a four-storey building at the front of the site with 17 apartments, a gym, allied health services and a Montessori early learning centre.
An eight-storey building at the rear of the site features another 60 apartments and two levels of underground parking.
ECH CEO David Panter said the village aims to provide apartment-style living with a sense of community.
"One of our aims was to avoid hotel-like corridors so we have specifically designed the entrance to each apartment to include a front porch and screen door to ensure it creates a neighbourhood feel," Mr Panter said.
BlueCross opens Box Hill facility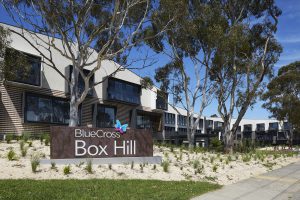 Victorian aged care provider BlueCross has officially opened its completed multi-storey residential aged care facility at Box Hill, Melbourne.
The final facility features 216 single rooms and apartments with private ensuites to combine modern aged care with contemporary living. The latest opening follows the completion of stage one of the development in September 2018 and welcoming of residents a month later (read more here).
The three-story facility includes activity areas, consultation and treatment rooms, a library, hairdressing salon, cinema and gymnasium. It also includes open plan kitchens designed with a 1950s feel for residents to prepare light meals with staff.
BlueCross chief executive Robert Putamorsi said every aspect of the facility has been built with the residents' comfort and wellbeing in mind.
"From the outdoor courtyards and landscaped gardens to the functional spaces such as multiple dining and sitting rooms, BlueCross Box Hill has been designed to provide a tranquil homelike environment for residents," he said.
Uniting Communities unveils CBD development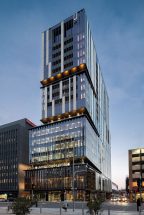 Uniting Communities has opened its $100 million development in Adelaide's central business district called U City this month.
The 20-storey vertical village includes 41 retirement living apartments across the top six floors and 21 one and two bedroom apartments for people with a disability.
It also includes a short-stay hotel facility with 18 specialist one, two- and three-bedroom apartments equipped for people with a disability.
The site has retail spaces, a suite of social services, such as community and consumer law services, a youth health medical clinic, allied health, and counselling and support services.
Uniting Communities chief executive Simon Schrapel said U City aimed to enable the community to live together.
"Key to the design and development of U City was our firm held belief that a genuine community can – and should – accommodate everyone," Mr Schrapel said.
Catholic Healthcare completes refurbishment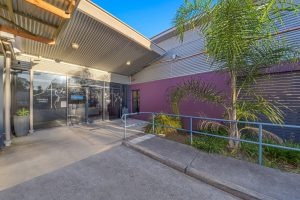 Catholic Healthcare has completed stage one of its Charles O'Neill Hostel refurbishment in Mayfield West, New South Wales.
The original 40-bed residential aged care facility was built in 2001 and now has an additional 15 places along with modern, integrated person-centred aged care services.
Charles O'Neill Hostel residential manager Miriam Mutasa said "our current residents moved into their newly refurbished home… with access to new dining and living areas."
"We thank our employees across the organisation together with residents' families who were instrumental in helping the move go so smoothly," Ms Mutasa said.
Stage two of the development commences this month and will see an additional 25 resident places added by mid-2020.
Have we missed an expansion or opening? Send us the details and an image to editorial@australianageingagenda.com.au