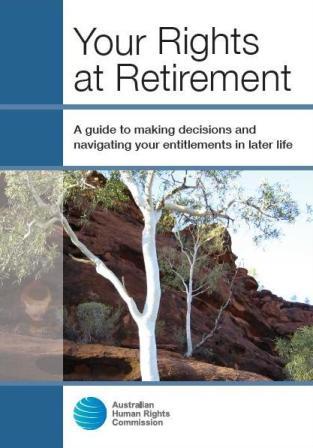 A one-stop reference guide to information, supports and services for people in retirement has been developed by Australia's Age Discrimination Commissioner Susan Ryan to assist retirees with the decisions they may need to make in retirement years.
Your Rights at Retirement contains information about income support, working, health and aged care, senior's cards, financial planning, superannuation, housing, rent assistance, transport, end-of-life planning and living free of discrimination and abuse and gives contact details of government and other later-life services.
The 265-page booklet also details the rights of older people from identifiable groups including veterans, indigenous Australians, Lesbian, gay, bisexual, trans and intersex older people as well as older people with a disability and from culturally and linguistically diverse backgrounds.
The resource aims to guide and prompt retirees to think about the decisions they should be making or planning for the future, Ms Ryan said.
"It encourages you to plan your retirement finances so there are no unwanted surprises. It gives you information about developing internet skills and tips about how to avoid scams," Ms Ryan wrote in the booklet's forward section.
The idea for the guide came about when Ms Ryan realised how complex it was to navigate the services, supports and the decisions relevant to life after retirement, she said.
"Retirement is definitely a time for careful planning and for being well informed about what is available," she said.
In addition to addressing difficulties in knowing where to start and what to plan, the guide aims to help with who to call because it is often necessary to contact a different government department or service for each topic, Ms Ryan said.
"I hope this publication becomes a one-stop-shop reference guide, where you can find the phone numbers and contact details of the many and various services out there."
Rather than being an authority on any one topic, it is a beginning point, Ms Ryan said.
"I encourage you to browse the contents and even read it from cover to cover. I guarantee you will learn about new services, processes and procedures."
Download the publication here: (pdf) Your Rights at Retirement