The newly announced Labor candidate for Bennelong and former AMA president Brian Owler has spoken candidly about being the father of an autistic child in a new film about fatherhood and autism.
The free online documentary, Dad: a film about autism and fatherhood was produced by Autism Awareness Australia with funding from the NDIS and launched on Thursday.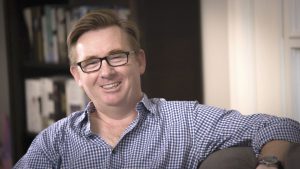 It is targeted directly at men, who talk about their unique experience of fatherhood, family and relationships after an autism diagnosis.
Dr Owler, a neurosurgeon, is one of a number of dads from around Australia who talk honestly and openly about their experience of autism in a film that offers guidance, inspiration and advice.
"You don't really expect that this is something that is going to happen to one of your children," Dr Owler says. "People don't want the diagnosis, but it allows you to address the issue and solve some of the problems."
Dr Owler has previously been an autism advocate and is on the board of Autism Awareness Australia.
Other dads featured in the film are former dual code rugby international Mat Rogers and broadcaster Ian "Dano" Rogerson, as well as a range of every-day fathers including an optometrist, a pharmacist, a software developer, and academic and a pastoral manager.
The documentary features some of the dads interacting with their children, who range in age from preschoolers to young adults and include both boys and girls, and offering candid fly-on-the-wall accounts of what daily life is like.
Topics include the first steps following diagnosis, how to navigate the system and find out what works, the impact on their relationship with their wives and the challenges and rewards of being the father of a child with autism.
Rogers talks about how his son Max had enriched his life, despite the difficult days.
"If you asked me when Max was diagnosed how do you feel, I was so angry I was bitter I was disappointed," he says. "but if you asked me now would I change anything, I wouldn't change a thing. It made me a better person, it made my wife a better person, it made our family a better family. I humbled me"
You can watch the film here.
Subscribe to Community Care Review