To support the transition into residential care, the most effective and meaningful resources are those co-developed with residents, writes Dr Meg Polacsek.
Transitions are experienced throughout life. For older adults, many transitions are positive, such as moving into planned retirement, becoming grandparents, learning new hobbies and travelling – COVID-permitting.
There are also negative transitions, which might involve the death of a loved one or a change in health status. For older adults and their families, a move into residential care can be one of the most difficult transitions.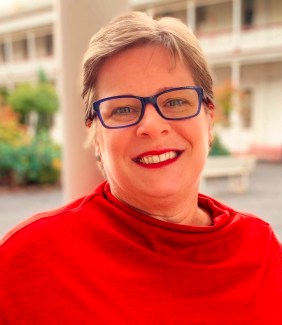 To understand how to best support new residents, we conducted a research project in which residents, relatives and staff were invited to share their experiences and strategies for supporting the transition into residential aged care.
The project, Smoothing the way … A co-design approach to improving aged care transitions, was supported by a grant from The Psyche Foundation.
We know the move into residential care is often an emotional and stressful event, which can see a decline in new residents' mental health. Depression and anxiety are particularly high in residential settings.
Already an important issue, COVID has exacerbated these feelings in older adults, their families and staff. There is a clear need to address relocation stress in a way that reduces the anxiety, apprehension, depression and loneliness often experienced by those who move into residential care.
Although there is growing interest in how to support this major life transition, few studies have viewed it from multiple perspectives.
As a service provider, we promote a rights-based approach to research, which supports authentic, meaningful engagement by all participants, and is aimed at improving practice in real world settings. This approach to research also aligns with the philosophy of continuous improvement.
Participants informed the co-development of new information documents and process maps aimed to support the transition.
To collect information from participants, the research team used surveys, individual interviews and small focus groups to hear the different perspectives on the transition. Participants included residents from four homes and their relatives.
It's crucial to hear directly from 'experts by experience', which is what our residents and staff are. A broad range of staff also participated. Involving senior managers, team leaders and direct care staff from the outset significantly strengthens the potential to produce interventions are relevant, acceptable and feasible.
Participants informed the co-development of new information documents and process maps aimed to support the transition. These documents reflect the perspectives of prospective residents, their families and staff.
For example, a series of questions visitors might ask during a tour of a residential home is presented as a list for the staff conducting the tour. This way, the key messages are supported from different angles.
Other new resources include a diagram of a typical day in residential care, which presents indicative times for meals, services and activities, and staff shift changes. In theory and practice, these relatively simple items are often missed.
Key findings
Some of the findings were startling in their simplicity. People want to know if staff knock before entering their rooms, and want to meet the staff who are preparing their meals and doing their laundry.
The most significant – and unexpected – result was that participants wanted short films featuring current residents, relatives and staff sharing strategies for a smooth transition.
The key messages shared in the films include:
the move into residential care is one of the most stressful life experiences for older adults
new residents are at risk of depression and anxiety, especially if their entry to residential care is a result of a crisis, such as a fall
residents, relatives and staff should know how to recognise and respond to symptoms of depression and anxiety
where available, pastoral care or chaplaincy services are well placed to provide social, emotional and spiritual support to residents.
It's no secret that aged care is operating under extremely challenging conditions. But there are things we can all do to help new residents to adjust. It was very rewarding for the research team to discover what information was needed and deliver it in the format participants wanted it in.
The films Transitioning into aged care with Benetas and Mental health edit are available on our website.
Dr Meg Polacsek is a senior researcher at Benetas
Main image: A Benetas resident and staff member who are featured in the films
This story appears in Australian Ageing Agenda magazine (Mar-Apr 2022) – subscribe to AAA magazine
Comment on the story below. Follow Australian Ageing Agenda on Facebook, Twitter and LinkedIn, sign up to our twice-weekly newsletter and subscribe to AAA magazine for the complete aged care picture.