Dementia Australia has developed consumer-informed advice on quality aged care for people with dementia, their families and carers to complement the sector's standards.
The 12-page report Our Solution: Quality Care for people living with dementia makes a series of recommendations in the context of each of the eight Aged Care Quality Standards.
The advice, which was presented to the Minister for Aged Care and Senior Australians Richard Colbeck today, forms part of the peak's three-stage initiative to develop a baseline and gold standard for dementia care linked to the standards.
The proposed solution aims to reflect a human rights-based approach and show what the quality standards and quality care mean for people with a firsthand experience of dementia.
Dementia Australia CEO Maree McCabe said people with a lived experience of dementia wanted to ensure their voices were heard and that their contribution led to greater inclusion.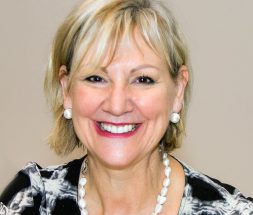 "This is not just about quality dementia care; it is about providing quality aged care to people living with dementia as well as their families and carers," Ms McCabe said.
"The introduction of the eight standards are welcomed and their release has led to a series of discussions about quality dementia care.
"This discussion articulates how quality dementia care looks and feels and identifies the key points of difference between quality dementia care and aged care more generally," Ms McCabe said.
The guide is informed by 137 people who attended 31 focus groups nationally and a consumer summit last month attended by dementia advocates, aged care peaks and the Department of Health.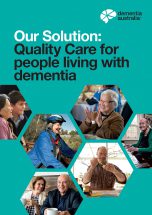 The recommendations outline what organisations need to do to make dementia core business and include:
understand diversity and maintaining identity through relationships
involve carers and advocates as vital partners in care
flexibility in provision of care and how and when services are received
inclusion in community, meaningful activities and decision making
community and home-like setting design, look and feel
feedback and complaints taken seriously
dementia trained staff
change in leadership and culture to understand and support dementia.
Ms McCabe is calling on the Federal Government to implement the proposed solutions.
"Dementia Australia and consumers are asking that government formally adopt the perspectives and information provided to them in the communique in accreditation standards for aged care homes to ensure a quality of life now and into the future for all people impacted by dementia," she said.
Project participant Dennis Frost, who has frontotemporal dementia, said people with dementia deserved to have a say in their care.
"People with dementia need to represent themselves and be included as equal partners and decision-makers when talking about quality care," Mr Frost said.
"If you can get it right for dementia, you can get it right for everyone else," he said.
AAA has sought comment from Mr Colbeck.
Access the guide here.
Comment below to have your say on this story
Subscribe to Australian Ageing Agenda magazine and sign up to the AAA newsletter