South Australian-based residential aged care, home care and retirement living provider Helping Hand has launched a new resource to support Forgotten Australians accessing care services.
The resource, Forgotten Australians, Real Care the Second Time Around aims to assist aged care providers in understanding and supporting the needs of older people who have experienced trauma in their early stages of life while in state and institutional care.
The term 'Forgotten Australians' refers to children who have been harmed or experienced trauma when placed into out-of-home or institutional care until 1989, often following the illness or death of a parent, family breakdowns or limited government and community support services.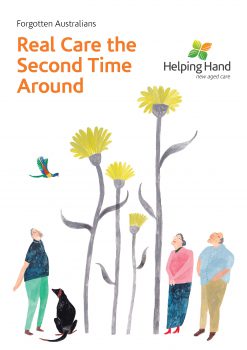 They also identify as care leavers, former child migrants or members of the Stolen Generation.
Many of these children suffered from neglect, were exploited for cheap labour or grew up in harsh conditions and are now afraid to access aged care services due to their past experiences and fear of more trauma.
Helping Hand project manager Diana O'Neil said the guide identified many Forgotten Australian's desires to be recognised for their unique care needs.
"Every individual has their own story but there are certainly some common themes among experiences of Forgotten Australians in areas of trust, aversion to authority and the fear of loss of control and loss of independence," Ms O'Neil said.
The guide includes information on embracing individual's identity, offering care based on choice, transparency and understanding and how to support the expression of individual's rights.
It also includes the experiences of Forgotten Australian's who have accessed Helping Hand's care services.
The resource outlines Helping Hand's commitment to supporting its staff to better understand and reduce the impact of past trauma, build trust and respect the rights of Forgotten Australians and deliver person-centred care planning tailored to their individual experiences.
"We are hopeful this booklet is the first step in a longer conversation that will lead to influencing policy practices within the aged care sector," Ms O'Neil said.
Helping hand said it would continue to work with Forgotten Australians and other care organisations to share its work on the resource nationally.
Access the Forgotten Australians, Real Care the Second Time Around resource here.
Comment below to have your say on this story
Subscribe to Australian Ageing Agenda magazine and sign up to the AAA newsletter