In this story:
Snack-style cookbook for elderly and those with dementia coming soon
Nutrition guide for older people
Snack-style cookbook for elderly and those with dementia coming soon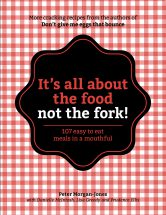 A new food resource from HammondCare focuses on nutritious smaller meals that can be eaten a person's hands rather than cutlery.
The recipes target older people and people with dementia, swallowing difficulties or other disability, as well as carers.
It's all about the food not the fork! 107 easy to eat meals in a mouthful will be available from June and comes from the authors of Don't give me eggs that bounce.
The recipes have been designed for those who are uncomfortable with cutlery, unable to face a large meal, have reduced appetite, trouble with chewing or swallowing, or always on the move.
Each meal is designed to be an easy to eat, handheld snack high in energy, nutrition and taste that restores dignity and enjoyment to an individual's dining experience.
The cookbook combines 107 recipes from HammondCare's food ambassador and executive chef Peter Morgan-Jones and several chapters on nutrition, mealtimes and eating from other expert authors.
The resource also includes a celebrity guest recipe from Maggie Beer, who will launch the book at the Sydney Hilton on June 17. American food writer Paula Wolfert, who lives with Alzheimer's and recently shot a documentary with Peter Morgan-Jones, has also provided a celebrity guest recipe.
Nutrition guide for older people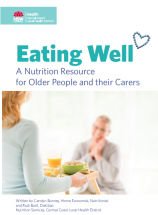 The New South Wales Central Coast Local Health District has launched a revised edition of its nutrition guide for older people.
Eating Well. A Nutrition Resource for Older People and Their Carers  (Booklet and Brochure) has been written to provide practical food and nutrition ideas and advice for older people, their carers and support workers.
The 60-page book is available for free to download as a pdf.
Also produced by the health district and relevant to the sector is the 2015 Best Practice Food and Nutrition Manual for Aged Care. Volume 2, which provides appropriate, practical and helpful information for all staff of aged care homes, dietitians and those who have loved ones in care.
To subscribe to CCR please visit https://australianageingagenda.com.au/subscribe-to-ccr/