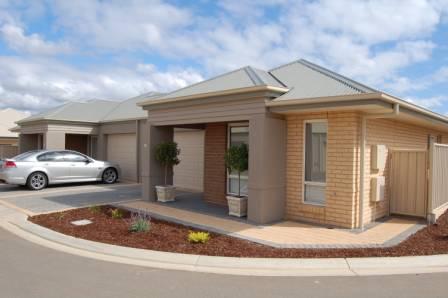 Above: A retirement villa at Ridgehaven Rise, where 22 new independent living units will be built later this year.
Above: Inside one of the existing villas at Ridgehaven Rise.
By Stephen Easton
Last Friday Masonic Homes announced a $6 million development at their retirement complex in the Adelaide suburb of Ridgehaven that will see 22 new independent living units begin construction mid-year.
The additional units are the finishing touches on a progressive $40 million expansion and upgrade project that has taken place over the past seven years at Ridgehaven Rise, the organisation's largest site, and will bring the total number of villas on-site up to almost 200, alongside an existing 123-bed nursing home.
Doug Strain, the central Australian operator's CEO, said the non-profit organisation was continuously looking to expand the number and variety of housing options they could offer for older people, at different price points with the flexibility to allow ageing in place.
"Ridgehaven Rise is a site we acquired back in the mid 1980s that we've been upgrading over the past five to seven years," Mr Strain said. "These 22 units are the last stage of a $40 million redevelopment that involved demolishing 24 single-bedroom granny flats, built in the '80s, and replacing them with modern, adaptable seniors housing."
"Across the whole site we've got a different range of housing types at different price points. Our model is about providing options for older people, so we have a number of one-bedroom granny flats through to three-bedroom villas with a garage.
"In the 2010-2011 financial year alone, this business cycle will see Masonic Homes invest almost $30 million in new seniors living infrastructure – and there is certainly no let-up in market demand."
Masonic Homes is also undertaking a major redevelopment of its southern Adelaide complex at Somerton Park and looking to acquire greenfields sites to develop at Roseworthy in Adelaide's north and Palmerston, south of Darwin.
The retirement provider is looking past baby boomers to their parents, according to Mr Strain, many of whom he said were able to financially support themselves based on assets like a suburban home, modest investments or superannuation, but could also be cash-poor and living on a pension.
"This is the first time in history when we have two generations in retirement – baby boomers and their parents," he said. "Our focus is around the parents. The boomers are, in the main, active retirees in a better financial position and in good shape physically."
"Were looking at it saying that this is the last house change you'll need. You don't need to move into a nursing home."
"As we've progressed, the principle issue is about providing choice and options, and empowering the market. We very much see older people as a demographic, not a welfare class."