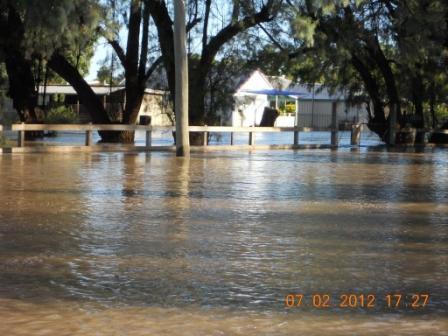 Above: A staff photo taken out the front of the flooded Churches of Christ Care's Warrawee Aged Care Services.
By Yasmin Noone
Over 30 aged care residents from the flood ravaged Queensland town of St George have been caught up in what is being dubbed 'the largest single evacuation in the state's flooding history'.
Churches of Christ Care's Warrawee Aged Care Services, located on the Balonne River, was evacuated last Sunday as rising floodwaters threatened residents' safety.
The 34 residents and an elderly neighbour were flown from St George to Gold Coast Airport in two trips – four high care residents arrived by CareFlight early Sunday morning and 30 by a RAAF C-130 Hercules, Sunday afternoon.
Thirty residents were transported by Queensland Ambulance Services to six aged care service providers at Southport and Ashmore, and to two Churches of Christ Care aged care services. St George Hospital are said to have taken four of the facility's higher care residents and one went home to family.
The Queensland Police Service have ruled out letting residents return home for days due to safety and hygiene concerns arising from the flooding of the town's sewerage plant.
Sunday's evacuation marks the third time round for the facility, situated in the flood-stricken, farming area.
Churches of Christ, Queensland's CEO, Dean Phelan, said the residents are all doing well and the evacuation, supported by the organisation's Crisis Management Team, went smoothly.
He commented that the organisation immediately enacted its Emergency Response Plan which placed residents' care as the top priority.
"We learnt many lessons from last year's floods and have fine tuned our emergency response," Mr Phelan said.
"…For two thirds of our residents, this is their third evacuation in as many years. While this is a major disruption, they are all coping well despite the stressful situation. Our staff are primarily concerned with the residents' wellbeing and safety, and have done everything they can to keep them informed and updated.
"Moving this many people, some with specific health needs, is a huge logistical operation but our staff have done an outstanding job of providing ongoing care and support, and organising records."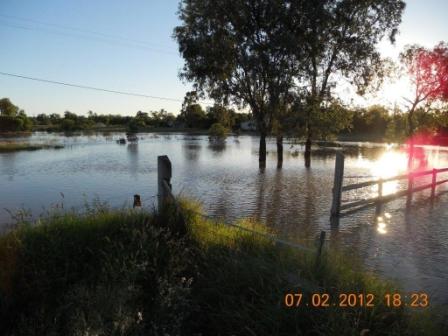 Above: The back of Churches of Christ Care's Warrawee Aged Care Services.
Last year, floodwaters lapped at the facility's doorstep but this time around residents and staff were not so lucky, despite extensive sandbagging efforts.
Mr Phelan confirmed that at least half a meter of water has entered the facility and it could be weeks before the home's contents are fully dry and residents are allowed back in.
This was all despite the fact that a four-kilometre dirt levee around the town – which excluded the facility's grounds – was built by Emergency Services in a last minute effort to hold against the Balonne River's rising waters.
"The levee bank doesn't extend to the aged care facility [even though] it is the only one in St George and one of the larger employers in the area," he said.
Other local Churches of Christ Queensland services, run from the same location, were also affected by the flooding, including the Mobile Children's Service St George, Family Day Care St George, Early Childhood Centre St George, Home and Community Care Services St George, Community Care Program St George, and an Independent Living Unit.
"They've all been flooded as [our grounds] weren't protected."
Mr Phelan said he understands that all the Emergency Services volunteers chipped in to do the best they could in building the levee and commends them on a job well done.
"But this is the third time in a row our building has been flooded.
"We are absolutely going to follow that [issue] through."
Although the "water levels now seem to be receding, the crisis is not over".
"It's almost just starting."
Once given the green light, Churches of Christ Queensland's Crisis Management Team will visit the facility to review the damage and transfer resident belongings to safe storage.
The organisation plans to launch an appeal for the flood-affected residents with more information on how people can help due to be released soon.
The crisis team and facility management remain in close contact with the SES, Queensland Health and other Queensland Ambulance and Emergency Services.
The Queensland Police Service's decision to keep the Mandatory Evacuation Order in place and refuse anyone entry back into the town was based on advice from the State Disaster Management Group and local authorities.
"The town is unsafe for your return, and until it is safe for you to return, police roadblocks will be maintained and people will be turned back for their own safety," Queensland Police media said.
"A day-to-day assessment will be conducted and daily advisories provided but it is unlikely at this stage that people will be allowed back into St George before Saturday.
"The town is unsafe for your return, and the Mandatory Evacuation Order remains in place."
Above: Photo of floodwaters approaching St George, courtesy of the State Emergency Service Queensland (QldSES).
Queensland Police have asked for those evacuated to continue to be patient until a safe return home can be ensured.
"We appreciate your patience in waiting until we can be sure you can go home safely. As soon as we know it is safe for you to go home, the Mandatory Evacuation Order will be rescinded."
Sunday night saw around 3,000 residents flee the town of St George after Queensland Premier Anna Bligh declared a mandatory evacuation order.
The order was issued in response to the Bureau of Meteorology's prediction that the Balonne River could peak at 15metres last Tuesday.
Many residents consequently sought refuge in evacuation centres in nearby Dalby and Brisbane.
Authorities later welcomed the news that water levels did not reach 15 meters however the situation was far from positive, with flood peaks hitting a new unprecedented record of 14.5 metres.
Emergency Alert messages have been issued by state police for St George, Charleville, Roma, Mitchell and the surrounding areas.
Local Disaster Management Groups (LDMG) are working around the clock responding to flooding in south-west towns. Emergency Management Queensland (EMQ) is providing support as requested
Police said that further updates will provided online at www.police.qld.gov.au as they become available.
For more information about state-wide alerts and road closures, visit the Queensland government's traffic and travel page at www.131940.qld.gov.au
Weather information is available via www.bom.gov.au/qld/flood/west.shtml
Emergency contacts:
Police, Fire and Ambulance: Triple Zero (000)
SES: 132 500 for help with a damaged roof, rising flood water, trees fallen on buildings, or storm damage.
Non-urgent medical help: 13 HEALTH (13 43 25 84)
General enquiries: 13 QGOV (13 74 68)