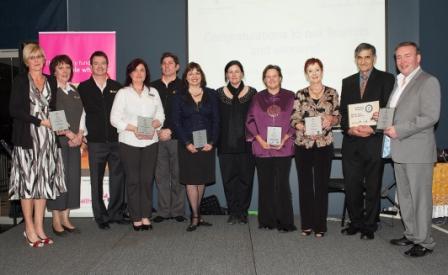 Above: The winners of the 2011 ACS SA & NT Awards for Excellence.
By Kate Horowitz
Stephanie Charlesworth's energy and enthusiasm to improve the quality of life for people with dementia is contagious.
Frontier Services NT Dementia Behaviour Management Advisory Service's (DBMAS) behaviour advisor took out the Employee Award at the Aged and Community Services SA and NT Awards for Excellence earlier this month.
About 160 colleagues and supporters cheered as Ms Charlesworth received her award, among seven winners honoured for their outstanding service to the aged care industry.
The annual event recognises the achievements of aged care professionals, providers and organisations that care for older South Australians and Northern Territorians.
Surprised and humbled by the honour, Ms Charlesworth said she drew great strength from working with people who have dementia.
"It is extremely rewarding to see someone whose life has changed because of some intervention you have made," said Ms Charlesworth.
"I love to see someone smile more than anything, particularly someone that hasn't smiled in a while."
Ms Charlesworth's own grandmother had dementia and she said caring for people with dementia involves a degree of"creativity and thinking outside the box.
" You have to think 'who is this person I look after and how can I help this person?' relating it back to their personality, their lifestyle and who the person really is."
She also recently took up learning a local Indigenous language to help her better communicate with and understand clients in East Arnhem Land.
"It is more challenging working with Indigenous people; we needed to better understand the culture they live in. That is why I learnt their language; it enabled me to form a connection with the person because not sharing the language was a big obstacle. To me it's all about connecting."
Colourful entertainment was provided by The Singing Magpies, a group of older and younger people with disabilities, expertly steered by musical director Lynne Pounsett.
ACS SA & NT chief executive, Alan Graham, described the evening as "a great reminder of the fantastic efforts put in by aged care workers every day in their passionate commitment to improving outcomes for the people they care for".
"The awards provide an opportunity for aged care providers to recognise and celebrate achievements with employees, volunteers and those organisations that support the sector," he added. "While inevitably there must be winners, we would like to think that every person or organisation nominated was a winner."
All winners from the ACS SA & NT State Awards are now in the running for the 2011 National Awards run by national peak body Aged and Community Services Australia (ACSA), to be announced in Sydney in September.
The other winners were:
The Industry Supporter Award: Provider Assist
The Volunteer Award: Barbara Griffith, James Brown Memorial Trust
The Trainee Award: Suzie Drake, Guide Dogs SA/NT
The Media Award: Resthaven Inc
The Organisation Award: Boandik Lodge Inc
The Design Award: The Pines Lodge, Southern Cross Care (SA and NT) Inc