With the number of people entering aged care homes set to double over the next 30 years, Australia needs to radically reimagine residential aged care, says an academic discussion paper.
A collaboration between the University of Melbourne and the MacKillop Institute, the paper calls for a "whole-of-sector rethink". And, as co-author Associate Professor Ralph Hampson told Australian Ageing Agenda, that rethink involves addressing the trauma many people experience when entering an aged care home.
Among the stressors identified: concerns over loss of independence, identity and community; changes to relationships; leaving homes and losing pets.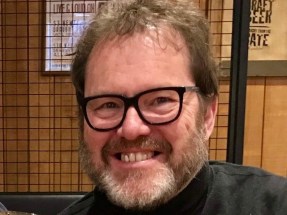 "How do we take care of that when people enter residential aged care – not just for them but also for their families," asked Associate Professor Hampson. "And how do we improve the way that people adjust to living in aged care … so that's what we're trying to talk about by using a trauma lens to think about what people might need."
It's not just about paying attention to the resident, added Associate Professor Hampson, "but also to their family and friends to encourage them to want to come to the facility to interact with the older person, so it's putting the family and the care of the older person at the centre of everything we do."
Associate Professor Hampson and his colleagues – Dr Chelsea Tobin and Cameron Burgess from the MacKillop Institute – are advocating for aged care facilities to become integral components of their local communities. "How do we build connections with the community where the residential aged care facility is located in?"
While acknowledging there have been some innovations in that area – such as pet days – Professor Hampson said it's about more than one-off events. "It's building a relationship with the community."
The Sanctuary model
In the discussion paper – Reimaging residential aged care – the research partners consider the Sanctuary model as the way forward.
As the discussion paper explains, the Sanctuary model promotes a safe, healing space for people that is trauma-informed – one that shifts the focus away from "what's wrong with you?" to "what's happened to you?"
The model:
offers a blueprint for clinical and organisational change
promotes safety and recovery from adversity
actively creates a trauma-informed workforce
recognises that trauma is part of the experience of human beings
focuses on empowering all parties in creating intentional communities.
MacKillop community service organisations already widely use the Sanctuary model in disability and child protection settings "and we think its application to aged care can only benefit residents, their families, and the people involved in the provision of care in these settings," said co-author Dr Tobin.
The research partners are inviting sector stakeholders to join the conversation to investigate and create new ways to support residents to feel happier and more connected. Send an email to Institute@mackillop.org.au.
"We're excited to partner with providers, to explore opportunities, share insights and, most importantly, to listen and to work together to improve care where the situation is recognised as untenable," said Dr Tobin. "Together, so much more is possible."
Comment on the story below. Follow Australian Ageing Agenda on Facebook, Twitter and LinkedIn, sign up to our twice-weekly newsletter and subscribe to AAA magazine for the complete aged care picture.