An aged care provider is piloting a game-based exercise program to improve residents' balance and minimise their risk of falls.
The Neuroscience Research Australia-developed program smart+step is being trialled in four Allity aged care homes in New South Wales and Victoria.
The system uses a wireless dance mat and a computer system connected to a television screen or monitor.
Residents play adapted versions of popular arcade-style video games, such as Space Invaders and Tetris, to train the balance, control and cognitive functions important to minimise falls risk.
To play, residents step in the correct direction at the correct time and progress through the game according to how quickly and precise they step.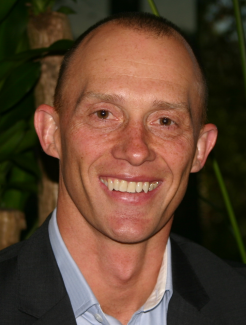 Allity chief operating officer Glen Hurley said Allity was attracted to smart+step because it's suitable for people living in residential aged care.
"It addresses two of the major health challenges for residents, which are falls and dementia," Mr Hurley told Australian Ageing Agenda.
"The technology can record the benefits but it's also some innovation, fun and bringing real-world type games that people experience into residential aged care," Mr Hurley said.
He said residents report they have been enjoying the trial for different reasons depending on what they are looking for.
"Some are looking for a fun and enjoyable way to improve their balance and their mobility, which is important to them. And others are using it on a bit of a competitive basis and are drawn to it as one of their friends is using it," he said.
The most popular games among residents are La Cucaracha, which involves squashing cockroaches, and Toad Runner, where residents use their feet to guide a frog across the river while avoiding obstacles.
NeuRA senior research scientist Dr Daina Sturnieks said the program could reduce falls by up to 50 per cent.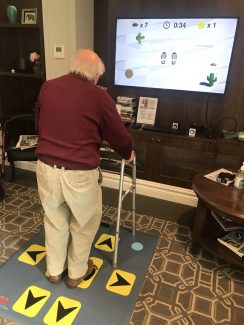 "Balance challenging exercises can improve mobility and significantly reduce someone's risk of having a fall, which is the biggest cause of injury-related death in older Australians," said Dr Sturnieks, who designed smart+step.
"Our trials show people find the games extremely enjoyable. The competitive nature of the games means that we are confident that smart+step participants will happily use the program to obtain the best possible health benefit," she said.
"We are excited to be undertaking this trial in partnership with Allity as this will enable the new technology to be used by thousands of people within aged care homes across Australia."
The trial, which commenced in December, involves more than 20 residents across the four homes playing twice a week for up to two hours a time.
Following the trial, Allity will look at roll out the program across its 44 aged care homes in NSW, Queensland, Victoria and South Australia and extending residents' playtime, Mr Hurley said.
Main image: Allity resident Norma playing smart+step. Image from Allity.
Comment on the story below. Follow Australian Ageing Agenda on Facebook, Twitter and LinkedIn, sign up to our twice-weekly newsletter and subscribe to AAA magazine for the complete aged care picture.