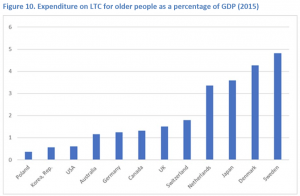 Australia's low level of spending on aged care compared to other nations is "embarrassing" and putting the care of seniors at risk, say aged care peak bodies.
The royal commission released two Flinders University-led research papers on Friday that provide an overview of aged care systems and models in other countries and innovative models of aged care (read our story here).
The report looks at population demographics, use of long-term care, government and user spending and workforce.
In terms of government spending, the researchers found that Denmark and Sweden came out on top with both countries spending more than 4 per cent of Gross Domestic Product on long-term care.
According to the report, Australia's demographic profile and GDP per capita is roughly similar to Sweden and Denmark but Australia's estimated expenditure on long-term care is lower at 1.2 per cent of GDP.
Australia also spends a lower proportion of GDP on long-term care than Japan (3.6 per cent) and the Netherlands (3.4 per cent) and slightly less than England (1.5 per cent) and Canada (1.3 per cent).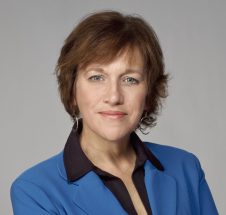 Aged and Community Services Australia CEO Patricia Sparrow said the results were a wake up call for Australia.
"Australia is at the bottom of the barrel when it comes to GDP spending on aged care.
"That's not just embarrassing, it should also be an urgent wake up call for the economy and for people entering retirement who may need aged care within the next 20 years," Ms Sparrow said.
Australia is falling behind because older Australians are undervalued, she said.
"There is a fundamental mismatch here, that at its core is an undervaluing of the contribution older people deliver for community and the economy."
"Not only is the aged care sector underfunded compared to other countries, but Australians who make huge sacrifices to care for elderly relatives don't get the same level of benefits either," Ms Sparrow said.
Aged care needs funding boost
Leading Age Services Australia CEO Sean Rooney said the report highlighted the chronic underfunding of aged care in Australia.
"With findings that Australia spends around 1.2 per cent of GDP on aged care, well below the OECD [Organisation for Economic Co-operation and Development] average of around 1.5 per cent and much lower than some European countries, it is vital our residential and home care programs receive a long-term funding increase," Mr Rooney told Australian Ageing Agenda.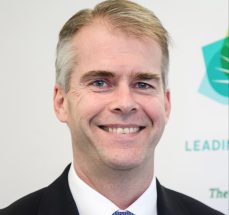 "The care of senior Australians is at risk, as residential homes suffer extreme financial stress and thousands of people are dying before receiving their approved home care packages.
"Australians want and deserve a world-class aged care system and a critical part of achieving this is world-class funding," he said.
AAA has sought comment from Minister of Aged Care and Senior Australians Richard Colbeck.
Access Research Paper 2: Review of International Systems for long-term care of older people here and Research Paper 3: Review of Innovative Models of Aged Care here.
Read Community Care Review's coverage here.
Comment below to have your say on this story
Subscribe to Australian Ageing Agenda magazine and sign up to the AAA newsletter