There needs to be an independent authority to review aged care pricing every year to ensure funding decisions are objective, a provider chief has told the aged care royal commission.
Chris Mamarelis, CEO of not-for-profit aged care provider Whiddon, told the Royal Commission into Aged Care Quality and Safety on Monday that he supported the commission's proposal for an independent pricing authority.
Under the proposal the authority would ensure that prices for aged care services are determined independently on the basis of benchmarking and cost data, and set at a level intended to meet the cost of delivering services.
"I believe we need independent price setting," Mr Mamarelis told the inquiry.
"[We] have thousands of people we care for annually. We can't operate in an environment where the Government just decides, for example, to put a funding pause on our revenues when we are planning around people's lives.
"We are planning around the people who care for those individuals and our funding is just withdrawn from us and literally at a minute's notice," he said.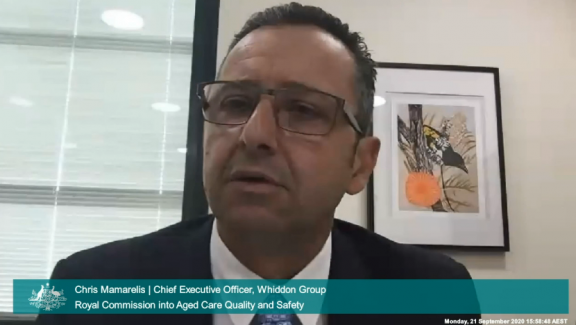 In his witness statement, Mr Mamarelis noted that inflation has failed to meet wage increases and inflation for several years. He suggested an annual independent pricing review to ensure that funding decisions are assessed objectively and in the interests of all stakeholders.
He also called for a guaranteed base inflation rate applied annually as part of the review process to provide security against ongoing wage and inflation growth, and to also ensure a level of consistency and certainty is embedded in the sector.
On the latter, Mr Mamarelis said the notice period for changes was the other part of the funding equation and essential for providing care that needed to be addressed.
"You find out literally days before what you're about to receive for the next 12 months. There's a lot of frustrations around funding," he told the inquiry.
He called for a commitment to a three-yearly indexation cycle to provide funding certainty and facilitate financial planning.
"We're dealing with people's lives; it's critical [to know] exactly where that funding is going, and so independent price funding is absolutely crucial. I think it should have triannual terms; there should be some certainty at least around the base rate to see us through for a longer period of time and a frequent review period that's attached to that."
Funding to support indirect costs
Mr Mamarelis also talked about indirect administrative costs for aged care providers not covered by government funding, such as those related to implementing the current Aged Care Quality Standards.
"There's a huge cost with implementation of the new quality standards over the last couple of years. We've had to invest very heavily in systems, in people, in sources to administer and ensure there's a certain standard that we are achieving there," Mr Mamarelis said.
He also said aged care funding did not support innovation, such as to develop providers' care models or care offerings to focus on outcomes for individuals.
"How are we going to innovate if that's not funded, if that's not built into the funding model?" he said. "Funding is obviously a core component of the innovation process. Without adequate funding and resources, we can't innovate," he said.
He provided Whiddon's account of developing its relationship‑based care model, which he said involved running trials, partnering with universities, gaining insights from others, and an in-house team to go through the innovation process to make‑or‑break it.
"I've seen the outcomes first hand, I've seen what the research tells us and the outcomes are understanding and they're benefitting the people we care for."
Whiddon has been able to innovate by using profits from its operations and through bequests and donations as a not-for-profit organisation.

"I don't really think that that is the core component of it, but we have benefited from bequests and donations and I struggle to think from a for-profit perspective; that would be even more difficult to under the current funding regime to really invest in innovation. So we need greater levels of profitability to achieve that," he said.
"I think through Federal Government grants, and being able to explore that a little more; that could be another avenue which would complement being able to fund them out of your operating profits," he said.
The hearing continues today.
View all our royal commission coverage here.
Comment on the story below. Follow Australian Ageing Agenda on Facebook, Twitter and LinkedIn, sign up to our twice-weekly newsletter and subscribe to AAA magazine for the complete aged care picture.