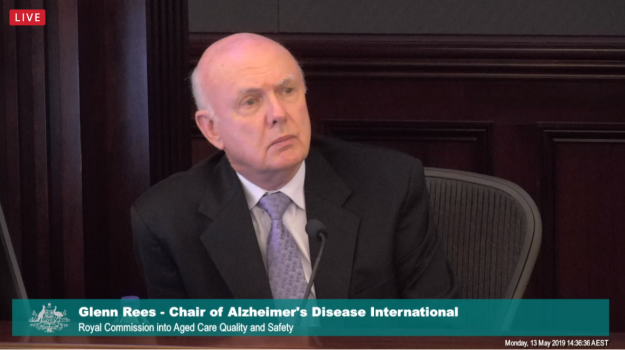 There needs to be more focus on aged care organisations providing best-practice dementia care, international dementia advocate Glenn Rees has told the aged care royal commission.
The Royal Commission into Aged Care Quality and Safety switched to focusing on dementia care at the hearing in Sydney this week.
Alzheimer's Disease International chair Glenn Rees said he despaired over a lack real action being taken by government, regulators and the aged care industry over the use of chemical and physical restraints.
The new regulations on restraints still leave huge areas open to discretion of the kind that has plagued the system for many years, said Mr Rees, who was CEO of Alzheimer's Australia for more than 15 years until December 2015.
"Until the government says our expectation is clearly this, and it's not a word game, the industry has every right in some ways, very sadly, to say we're doing our best," he told the inquiry on Monday.
He said provider representatives had serviced the residential aged care sector badly in terms of bringing about positive change in this area.
"[B]ecause instead of focusing our attention on the residential care providers who are doing a good job, they've allowed the focus to be on those who are not doing a very good job.
"The department, the media and advocacy organisations really ought to be engaging more with providers who are trying to do a good job, and working on that rather than allowing the whole sector to be damned by media stories," he told the inquiry.
Dementia priority areas
Mr Rees also said Australia's efforts in responding to the World Health Organization's Global Dementia Action plan 2017-2025 were poor.
The plan outlines seven priority areas to improve the lives of people with dementia including making dementia a public health priority, creating dementia friendliness and improving dementia diagnosis, treatment and care and support for those affected and their carers.
"I'm critical of the Australian effort at planning in the sense that the words are full of good intentions, but they're not linked to specifics in terms of dollars or outcomes that are expected.
"There wasn't a great deal of ownership of that document. And it was almost slipped out after dark, so that the broader community wouldn't have really known it was there at all," Mr Rees said.
Mr Rees provided the royal commission with strategies that could improve the care for people with dementia.
He said measures that need to be prioritised include developing a new funding system for residential aged care and taking action to improve the workforce.
His other priorities include to:
seek the views of older people and other stakeholders on the directions proposed in the royal commission's report
develop an assessment process that government, consumers and providers can trust
re-structure home aged care programs in line with principles of the National Disability Insurance Scheme
design coherent respite care to include planned care
review the work of the aged care royal commission at each interval.
Mr Rees also said he would like to see a department of community services to bring together policy for the disability, ageing, homeless, housing and childcare industries.
The hearing continues this week.
To stay up to date on the latest about the Royal Commission into Aged Care and Quality go to our special coverage. We will also be issuing regular Royal Commission Roundup reports which you'll receive in addition to your weekly e-newsletters.
Comment below to have your say on this story
Subscribe to Australian Ageing Agenda magazine and sign up to the AAA newsletter