Aged care providers should have to meet mandatory minimum staffing requirements including a registered nurse on site at all times and more RNs and nurse practitioners overall.
Aged care workers need more training and better remuneration and unregulated workers should be subject to registration with minimum qualifications.
These are among recommendations made by Senior Counsel Assisting Peter Rozen in a submission focused on residential aged care to the royal commissioners at a hearing in Adelaide on Friday.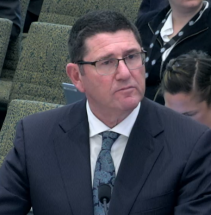 Mr Rozen said the community owed aged care workers a lot.
"These submissions are aimed at improving their working lives so that our elderly citizens can receive safe care of the quality that they should receive in a country as rich as ours," Mr Rozen told the hearing.
He said their submissions were informed by the following principles:
an approved provider of residential aged care services should have to meet mandatory minimum staffing requirements
registered nurses, including nurse practitioners should make up a greater proportion of the care workforce than is presently the case
all aged care workers should receive better training
unregulated care workers should be subject to a registration process with a minimum mandatory qualification as an entry requirement
the care workforce should be better remunerated and should work in safe workplaces
the organisations for which they work should be better managed and governed
the Australian government should provide practical leadership.
"We submit that, if the goal of this royal commission is to make recommendations to achieve high quality, safe and person-centred aged care services, as it must be as it must be under the terms of reference, then the time for real action on staffing numbers and mix, skill levels, remuneration, conditions of work and registration of the unregulated portion of the aged care workforce is now," Mr Rozen said.
The implementation of the proposed recommendations as a holistic package would eventually make aged care a more attractive sector to work in, he said.
"This will help to retain the current workforce and attract new workers to the sector."
Mr Rozen said council assisting the royal commission endorsed a proposed recommendation to the royal commission that the Australian Government should at a minimum mandate that an RN be on-site and available at all times in residential aged care.
"While we recognise that the evidence shows that residential aged care is best provided by multi-disciplinary teams involving a range of medical professionals including doctors, nurse practitioners, allied health practitioners and others, we submit that for too long the role of nurses, especially registered nurses, has been downplayed in our aged care system.
"We submit that this is one of the mistakes of the past that must be confronted if the aged care system is to provide high quality and safe care in the future…"
More to come.
Comment below to have your say on this story
Subscribe to Australian Ageing Agenda magazine and sign up to the AAA newsletter