The regulation of quality and safety in home care is worse than in residential care even though home care clients potentially face greater risks, the Aged Care Royal Commission has heard.
In closing statements after hearings in Brisbane last Friday, Senior Counsel Assisting Peter Gray QC said evidence heard by the commission in the course of the week had exposed "serious defects" in the regulation of safety and quality in aged care at both an operational and design level.
"The regulation of quality and safety of care delivered in the home is even less developed than the regime for residential care," he said.
"In terms of home care, we submit regulation is deficient."
Mr Gray said it appeared that the government had been relying on market forces under consumer-directed care to act as a safeguard for home care.
But the model had brought with it a whole raft of new problems of its own, he said.
"Consumer directed care in home care is problematic in areas where information's not available to the care recipient, where services are thin … and where the care system is confusing and difficult to navigate," he said.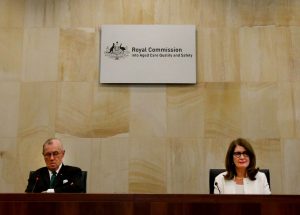 "Quality reviews of home care services need not occur until a significant time after a provider begins operations, leaving a window of significant risk."
Gaps and weaknesses in home care regulation
The commission also heard from health department bureaucrat Amy Laffan, who is overseeing a series of reforms to aged care quality and safety arising from the 2017 Carnell/Paterson review.
Ms Laffan gave evidence about "gaps and weaknesses" in home care regulation, including the lack of any requirement for accreditation, no requirement to talk to care recipients during quality reviews, a lack of visibility of service delivery and no requirement for home care providers to advise the department of changes to key staff.
Quality assessment information about home care was also not published, she said, and there was no compulsory reporting of incidents.
"No accreditation is required for home care services and a home care provider can begin operations without there ever having been a prior review by the Aged Care Quality and Safety Commission as to the safety or quality of its services," Ms Laffin told the commission.
"I think some sort of assessment prior to delivering care would be a sensible one for home care," she added.
However she noted there were barriers to engaging directly with home care clients, including privacy issues around assessors going into people's homes. The department had also traditionally considered home care clients "lower risk", she said.
"Isn't it the case that, in a sense, there's a higher risk, because what's happening is happening on closed doors on private property, not in an institutional setting, so there are less eyes on what's happening?" asked Mr Gray.
Ms Laffan replied: "I understand it was a view held within the department, but I think the department acknowledges that times have changed."
Home care 'broken and unregulated'
Home care recipient Gwenda Darling has dementia, epilepsy and co-morbidities and was approved for a level 4 home care package in January 2017.  She is currently on a level 3 package but has been told she faces up to three more months of waiting for her assessed package to come through.
Ms Darling, who is indigenous, told the commission she has had five providers since January and has experienced direct racism including being called a "boong" by one care worker. She also expressed concerns about the quality of the services including staff not turning up, questions about financial statements from operators, and inadequate cleaning services that left her feeling "like I was living in squalor".
She made repeated attempts to complain, including to providers, aged care advocacy services and to the then Aged Care Complaints Commission but eventually gave up, feeling there was no "compassion" for her situation.
"I feel like no one cares about the waste of funds and out-of-guidelines misappropriation that I've seen in home care, because there's no one to raise those issues with," she said.
"It seems to me that home care is not supervised. No one is allocated to take care of it. Where do you complain about fees and charges? It seems to me that you take care of yourself."
She described the home care system as "broken" and "totally unregulated".
"I want to stay living in my home but without good home care and honest providers, I will not be able to stay home. Like thousands of Australians, I'll be forced into residential care defeating the whole purpose of home care, which is to allow us to remain in our own homes. As a home care client, I feel like no one cares."
Subscribe to Community Care Review