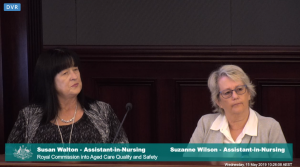 Residential aged care staff often have heavy workloads and work unpaid overtime to finish all their duties on a shift, the aged care royal commission has heard.
On Wednesday, the Royal Commission into Aged Care Quality and Safety heard evidence from a panel of aged care staff including two assistants in nursing, a registered nurse and retired diversional therapist about their experiences of caring for residents with dementia.
Registered nurse Elizabeth told the inquiry it was not uncommon for staff to come onto their shifts early and work unpaid overtime to ensure residents were cared for.
"I was working in an aged care facility where we did half an hour… unpaid overtime every day and that was so we could have the handover. And … we would be doing up to four hours overtime a day, just trying to manage care for people," Elizabeth told the inquiry.
During some shifts, staff were expected to take on more than their own workloads, she said.
"If somebody doesn't turn up, then you actually have to do your work, their work and that's just bad luck," Elizabeth said.
Suzanne Wilson, an assistant in nursing at a 150-bed facility on the north coast of New South Wales, said she did not get to leave on time after most of her shifts.
"If there's a resident we're halfway looking after you don't just leave, you stay there and you finish caring for them," Ms Wilson said.
Fellow assistant in nursing, Susan Walton, who works in a 100-bed facility in Illawarra, said she never got to complete all her duties during a shift.
"If I'm on a floor with 40 people, I don't have a cleaner, a laundry person and kitchen staff, I have to do all that, plus answer call buzzers, attend to people that are on the floor, pain, you can just imagine, you can never get it done," Ms Walton said.
It results in some residents missing out on their care, she said.
Ms Walton said she also started her shift half an hour early to allow time for handover.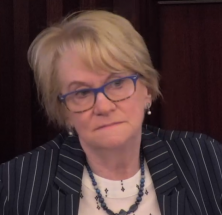 "We have a problem with handover between shifts. We don't actually get to see the registered nurse for a handover when we start our shift. They're busy getting a hand over from the registered nurse before for 100 residents," Ms Walton said.
Elizabeth said handover in aged care was "your bread and butter" but that important information wasn't always provided from one shift to the next.
"You need to know what is going on for the residents so you can then provide effective care. And if you don't get a proper handover, you're working blind," she said.
Retired diversional therapist Maggie Bain, who was responsible for assisting residents with dementia to participate in activities, also said handover was extremely important but was lacking.
"There is not enough time provided to read notes all the time. It's very important because we need to know if a person has different changes to behaviours or different changes to their physical self."
Staff need more training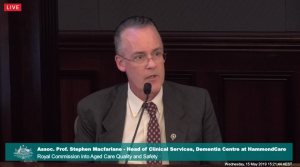 Elsewhere on Wednesday Dementia Centre head of clinical services Associate Professor Stephen Macfarlane said staff education and training on dementia and behaviour management was inadequate.
"If the majority of your workforce are personal care attendants and the requirement is for them to complete a six-week course in aged care, it doesn't really give you much opportunity to gain any understanding about what dementia is, let alone to understand the complexities of how to assess somebody with problem behaviours to determine their cause," Professor Macfarlane told the inquiry.
"If we're not equipping our aged care staff out of their training institutions with the necessary skills to at least have an understanding of dementia, you're almost setting providers up to fail," he said.
There should be mandated minimum training on dementia for all aged care staff in caring roles and it needs to include modules on behaviour management, Professor Macfarlane said.
"Knowing about the training curriculum of nurses, I'm not convinced that having completed a nursing degree, necessarily gives you any particular expertise in dementia, simply by virtue of being a nurse," he said.
"There should be specific modules with an educative focus on how to manage problem behaviours from a psychological environmental and social perspective rather than perhaps education that reinforces behavioural problems as being something that it's the doctor's responsibility to sort out, because most doctors will then only have the tool of a prescription pad available to them."
Issues attracting the right staff to the sector is a contributing factor to the quality of care provided, Professor Macfarlane said.
There are two types of people who work in the sector, staff who are passionate about the aged care and those who may not have been able to get a position elsewhere, he said.
"With people with passion, you get both quality and safety. With people who are just taking the job because it's all they can get, you're not getting either really, despite them both having the same qualification," Professor Macfarlane said.
The hearing continues this week.
To stay up to date on the latest about the Royal Commission into Aged Care and Quality go to our special coverage. We will also be issuing regular Royal Commission Roundup reports which you'll receive in addition to your weekly e-newsletters.
Comment below to have your say on this story
Subscribe to Australian Ageing Agenda magazine and sign up to the AAA newsletter