Regulations need to allow for greater consumer choice in residential aged care so the industry can provide individualised care, the aged care royal commission has heard.
National director of UnitingCare Australia Claerwen Little told the Royal Commission into Aged Care Quality and Safety on Wednesday that current aged care regulations failed to factor in whether residents have certain wants or wishes for their care.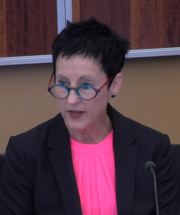 "At the moment the regulations really bind up a system and the service so they can't necessarily provide more choice for the individual," Ms Little said.
Residents want to have a say in their care, including when they get up and what they wear and eat for breakfast.
"The regulations as they stand at the moment are very rigid," she said.
The current regulations do not provide flexibility for the wants and desires of residents, Ms Little said.
"We have a regulatory environment which is incredibly hard in which to create an environment where choices can be exercised in that way, mainly because it is a regulatory environment that is essentially about punishment and not about flexibility within the care setting, especially residential care," Ms Little said.
The future regulatory framework needs to be much more flexible, she said.
"It needs to be a continuous improvement process that is based on outcomes and based on the needs of the individual, rather than the needs of the system.
Ms Little also suggested there needed to be more options for people than the current three care and support programs and particularly between home care packages and residential aged care.
"We believe that there are many other options that can be developed between that [are] smaller settings. The residential aged care settings at the moment are predominantly large institutional settings," she said.
"It's time that the aged care institution is really unpacked and brought into a much broader range of smaller and more flexible options for people than just the three that exist at the moment."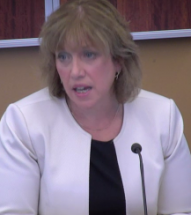 On Tuesday, Aged and Community Services Australia CEO Pat Sparrow told the hearing that the regulatory system did not support dignity of risk.
"Dignity of risk is allowing people to make choices, to be safe in the environment but also to make choices that reflect what they want and need to do," Ms Sparrow said.
She provides the example of a resident wanting to walk to the local shop to buy an ice-cream after dinner.
"Regulation sets up a concern that [something] may not be a safe thing for the person to do. But for that person that [something is] going to have an impact on their quality of life, and it gives them dignity about them having choice.
"We think there has to be safety for people but one of our jobs as providers should actually be to support people to have the quality of life that they want and those small examples about choices that people can make that give quality of life and meaning to them, we should be able to support them to do," she said.
Systemic issues in the sector
Elsewhere on Wednesday, the CEO of fellow aged care peak the Aged Care Guild, Matthew Richter told the royal commission that the aged care sector is meeting the needs of many senior Australians, however there are systemic issues that need to be improved.
"I think there are a number of symptoms that this system is approaching a tipping point and we need to refocus it and as has been mentioned by some others re-balance it," said Mr Richter, whose organisation represents large for-profit residential providers.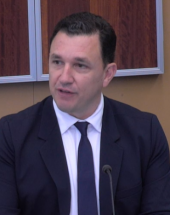 He said one of the biggest system issues is a lack of information for consumers almost at any point of the very complex and complicated journey.
To address systemic issues, the Aged Care Guild is partnering with consumer ratings website CarePage to develop a $100,000 prototype of an online system to combine consumer feedback.
He said it would include net promoter scores, clinical indicators and recommendations for services.
The peak is aiming to have the tool developed within the year, Mr Richter said.
Staff turnover on the rise
During Mr Richter's evidence Senior Counsel Assisting Dr Timothy McEvoy questioned the "striking" turnover rates of nurses at the majority of the Aged Care Guild's member organisations.
The average employment period of new graduate nurses decreased from 2.35 years in 2013-14 to 1.69 years in 2015-16 and 1.32 years in 2017-18, Mr Richter said in his witness statement.
On addressing the issue, Mr Richter pointed to the industry council it was establishing with fellow aged care peaks ACSA and Leading Age Services Australia to oversee the implementation of the sector's workforce strategy developed by the Professor John Pollaers-led Aged Care Workforce Strategy Taskforce.
"We've been working to help John Pollaers try and get that council formed and working as quickly as possible so that strategy doesn't sit idle any longer.
"We've had some members involved in the formulation phase of it in terms of the strategy now," Mr Richter said.
Comment below to have your say on this story
Subscribe to Australian Ageing Agenda magazine and sign up to the AAA newsletter