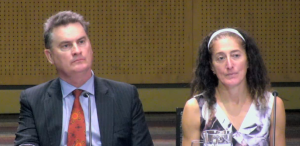 The system needs to focus on the individual and their nutritional needs because currently residents are malnourished and starving to death, the royal commission has heard.
A panel of experts told the Royal Commission into Aged Care Quality and Safety hearing in Cairns on Tuesday about the dire need to improve nutrition in aged care.
Qualified nutritionist and University of Melbourne researcher Dr Sandra Iuliano said the new Aged Care Quality Standards, which came into effect on 1 July, do not meet the needs of residents.
"We should be focusing on the resident and their needs and are their needs being met, not getting the resident and putting them into a system and moulding them to a system," Dr Iuliano told the inquiry.
Aged care providers need to consult with residents to find out what they want and look at the timing of meals and accessibility of food outside of mealtimes, she said.
"Unless there's an incentive to actually get those systems in place, I think we're going to maintain the status quo, which to me at the moment is not appropriate, and it's inadequate because basically these residents are malnourished and they're starving to death," Dr Iuliano said.
Dietitians Association of Australia CEO Robert Hunt told the inquiry that adequate nutrition was a human right yet the aged care system did not encourage nutrition risk screening to identify malnutrition and special dietary requirements.
"There's no desire to do so. There's no requirement to do so. And where it is done… one of the key issues is that the people doing the assessments are not necessarily holding the right training to identify, ask the right questions… and then deal with the responses to ensure that they're getting the right information," Mr Hunt told the inquiry.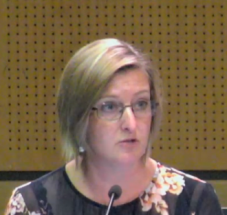 DAA member and accredited practising dietitian Sharon Lawrence said aged care providers did not have the capacity to implement appropriate nutrition plans.
"At this moment they don't have the capacity to do that just because they don't have the skill and knowledge to be able to do that," Ms Lawrence told the inquiry.
Dietitians are able to support cooks and food service staff to improve their knowledge around specific dietary needs of older people, she said.
"I feel that we're able to support the services to do that but at this stage that's not there. It's not available," Ms Lawrence said.
Improving nutrition
Dr Iuliano said not enough was being done to ensure that residents had adequate levels of nourishment.
"I find it quite sad that many residents have to rely on family members bringing in food in accord to achieve the foods they want and achieve the nutritional status they want. I think prevention is better than trying to deal with malnutrition," she said.
Dr Iuliano said there should be a national mandatory minimum education level to work with food in aged care.
"I think if people are going to work in aged care and work with the elderly that we need some kind of standardised national education that they must achieve in order to work in that field because without it – it's a very specific group of people.
"It's like paediatrics, we don't suddenly work in paediatrics with children, you have to be qualified and specialised. They're as vulnerable as the children so it's the same scenario," Dr Iuliano said.
Mr Hunt said there needs to be a national nutrition policy that encompasses the health of all older Australians, a recommendation the DAA made in a written submission to the royal commission.
Nutrition needs to be elevated to the top of the health prevention strategy, he said.
"We have had a silent faceless abuser in the aged care sector for years. It has been tragic around what we've seen in terms of the safety of residents. But for years and years and years this silent faceless abuser called malnutrition has been around," Mr Hunt said.
Ms Lawrence said there needed to be a stronger governance and accountability framework around nutrition across all aged care services.
"Older people want to age in their homes… So why don't we have a system that supports that process to ensure that their risks of nutrition don't escalate to a point where they become malnourished," Ms Lawrence said. "We really need to look at the whole governance approach."
The Royal Commission into Aged Care Quality and Safety Cairns hearing wrapped up on Wednesday. The next hearing takes place 29-31 July in Mildura, Victoria, and will focus on informal carers and family. The Brisbane hearing follows 5-9 August with a focus on aged care regulation.
To stay up to date on the latest about the Royal Commission into Aged Care and Quality go to our special coverage. 
Comment below to have your say on this story
Subscribe to Australian Ageing Agenda magazine and sign up to the AAA newsletter