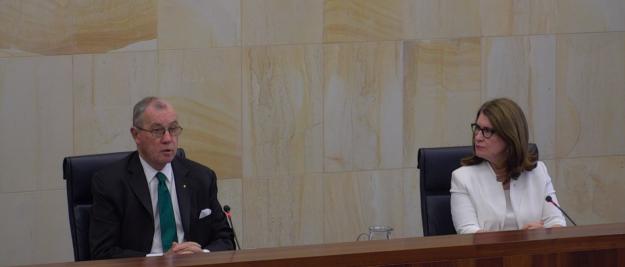 Aged care providers have been warned about the consequences of failing to respond to requests from the royal commission or moves to stop employees from speaking up at the inquiry at the opening hearing in Adelaide.
About 40 people sat in the public gallery of the much anticipated first hearing of the Royal Commission into Aged Care Quality and Safety on Friday, however, many more people were turned away from courtroom 11 at the Roma Mitchel Commonwealth Law Court Building once all seats were occupied.
The commissioners and two counsels assisting outlined the operation of the inquiry's forthcoming public investigation including its process and powers for gathering information.
Commissioner Lynelle Briggs said they had so far asked providers for their assistance and cooperation, rather than compelled them.
"It has been our hope that providers would and will continue to assist us," Ms Briggs told the hearing.
"Inevitably providers who do not engage with our requests draw attention to themselves and to their practices," Ms Briggs said.
In his opening statements Commissioner Richard Tracey warned providers against stopping current or former employees from participating freely in the inquiry.
"We would be gravely concerned if any operators in the aged care sector or government bodies were to instruct their staff not to talk to the royal commission or to withhold information from us," Mr Tracey told the hearing.
"It would be unlawful for an employer to take punitive action against an employee or former employee who has assisted us," he said.
He also talked about provisions that impose obligations of confidentiality or non-disparagement as measures highlighted as a potential barrier to participation in the commission's process.
However, Mr Tracey said they expected many providers would cooperate and waive reliance on such clauses.
He pointed out that if necessary they could exercise powers of compulsion to secure any information that may inform the inquiry.
"Contractual confidentiality or similar clauses do not excuse production in answer to a summons, requirement or notice issued by us. Likewise they do not excuse the obligation to answer a question in a hearing."
New powers to compel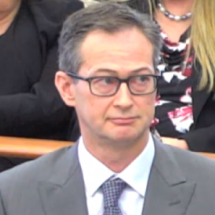 Elsewhere at the hearing in this area, Counsel Assisting Peter Gray addressed the commissioners about their powers to compel witnesses as part of their information gathering including a new power not used by any other royal commission.
These include the power to issue notices requiring the production of documents and things, and the power to issue notices requiring individuals to give information or a statement in writing, the latter of which is a new power, he said.
"This commission will be the first royal commission to exercise this power. We expect this power will be exercised in preparation for public hearings," Mr Gray said.
Other key information from today's hearing
The first hearing where witnesses will give evidence is scheduled to commence on 11 February in Adelaide where it will continue into the week beginning 18 February.

Evidence at the February hearings will focus on key features of the aged care quality, safety and complaints system and how the system works in general with accounts from peakbodies representing consumers, aged care and healthcare providers, and regulators.

As a general rule, the commissioners do not intend to re-examine matters which have been specifically examined in previous inquiries, but do expect to examine the changes and developments that have followed these inquiries.

The short response times accompanying requests from the commission will continue throught the inquiry to ensure the commissioners can meet their deadlines to submit an interim report by 31 October 2019 and final report by 30 April 2020.

The commissioners intend to release consultation, research and background papers developed from their information gathering consultation and other activities.

A policy and research program is being developed to assist the commission to make recommendations that will provide a sustainable high-quality aged care system.

Details of public hearings will be published on the royal commission's website ahead of each hearing and will include the scope, purpose and focus of the hearing.
Related coverage
Royal Commission invites witnesses for February hearings
Commissioners outline vision for aged care inquiry
Witnesses to appear at royal commission from February
Commission to kick off hearings on 18 January
Providers asked to give a five-year history of poor instances of care
Aged care providers welcome royal commission
Comment below to have your say on this story
Subscribe to Australian Ageing Agenda magazine and sign up to the AAA newsletter