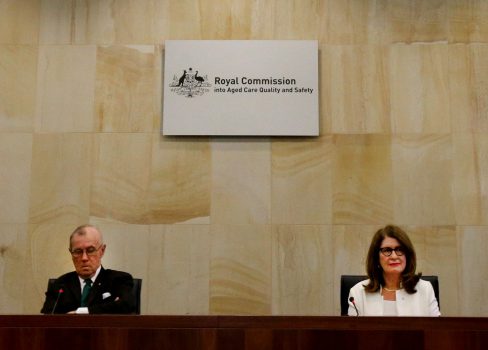 The aged care royal commissioners have rejected industry calls for a significant increase in government funding to aged care before the end of the inquiry due the need for a major transformation, their interim report shows.
However, Commissioners Richard Tracey and Lynelle Briggs have flagged chemical restraint as one of three areas requiring "urgent action" in their report titled Neglect tabled in parliament on Thursday.
In the three-volume report, they describe the aged care system as a "shocking tale of neglect," say "this cruel and harmful system must be changed" and raise questions about a market-oriented approach.
It is clear that Australia's aged care system needs a fundamental overhaul of its design, objectives, regulation and funding rather than patching up, Commissioners Tracey and Briggs said.
"We have found that the aged care system fails to meet the needs of our older, often very vulnerable, citizens. It does not deliver uniformly safe and quality care for older people. It is unkind and uncaring towards them. In too many instances, it simply neglects them."
They said it is "a myth that aged care is an effective consumer-driven market" and "the notion that most care is 'consumer-directed' is just not true."
The interim report sets out the extent of the failure of Australia's aged care services and what the Royal Commission into Aged Care Quality and Safety has learned to date. It was finished before Commissioner Tracey died last month.
They raise concerns over a lack of measures available to quantify the extent of substandard care, but conclude based on evidence to the inquiry, that "substandard care is much more widespread and more serious" than they anticipated.
Major quality and safety issues identified include inadequate wound and continence management, widespread malnutrition including because of dreadful food, and the overuse of physical and chemical restraints.
RC rejects industry calls for major funding now
The commissioners responded to calls "from several quarters" for government to significantly increase aged care funding without waiting for next November's final report and recommendations.
They called these interventions "variations on a theme which has haunted this area of government policy for far too long" that at best offered short-term solutions "to temporarily stave off the worst problems."
At worst, they "produce another set of unintended outcomes requiring further inquiries and reviews and further injections of public funds without addressing the underlying causal factors."
The commissioners will recommend comprehensive reform and major transformation of the aged care system in due course.
Immediate action needed on restraint
However, they said they see "no reason to delay action in" responding to the significant over-reliance on chemical restraint in aged care including through the next Community Pharmacy Agreement now being negotiated.
"The prevalence of restrictive practices in residential aged care is unacceptable," the commissioners said.
They found restrictive practices are common and often used as a first-line response to manage challenging behaviours despite evidence and global trends promoting restraint-free environments in aged care.
"The overwhelming evidence before the royal commission is that there is a lack of knowledge about restraints and their impacts, alternatives to their use and the safe and appropriate management of the behavioural and psychological symptoms of dementia," they said.
They said early action by the Government in their negotiations on the seventh Community Pharmacy Agreement may partly correct the prolonged use of chemical restraint.
The commissioners suggest the Australian Government, the Pharmacy Guild of Australia and the Pharmaceutical Society of Australia review the effectiveness of the Residential Medication Management Review program as part of the agreement and:
lift the cap on funding to enable more frequent reviews
include people in residential respite and transitional care
consider mechanisms to enhance review quality and consistency
consider additional government-subsidised processes to support pharmacists to follow up on review recommendations.
The other areas identified by the commissioners for immediate action include:
more Home Care Packages to reduce the waiting list for higher level care
stopping the flow of younger people with disability into aged care and expedite getting existing younger residents out.
'Time for a reality check'
The commissioners found that the aged care sector does not respond well to aged care recipients, their families or the community.
"It is disturbing that the aged care sector is not sufficiently mature or professional to listen to feedback from those who use and observe its services at close hand, particularly when the regulatory system appears so distant and ineffectual."
The aged care system also lacks transparency. The aged care sector behaves like an industry, but "this masks the fact that 80 per cent of its funding comes directly from Government coffers," the commissioners said.
"It is time for a reality check," they said. "Australian taxpayers have every right to expect that a sector so heavily funded by them should be open and fully accountable to the public and seen as a 'service' to them."
Some succeeding against the odds
While the commissioners' overall impression is one a system failing, they acknowledged the positive stories of great quality care, caring environments and dedicated staff reported by provider organisations, consumer representative groups, aged care recipients and staff.
"All of these positive examples provide us with confidence that a better aged care system is possible. However, it seems that these providers and staff are currently succeeding due to their own passion and dedication.
"The aged care system provides no incentive or encouragement for these achievements. In short, they are succeeding despite the aged care system in which they operate rather than because of it."
The commissioners also commended an overworked and underpaid workforce largely doing its best under pressure.
Aged care's so-called market
While the current system has been framed as a market for aged care services where clients can choose between competitively marketed services, the commissioners found many older people are not in a position to meaningfully negotiate prices, services or care standards with providers.
"Despite appearances, despite rhetoric, there is little choice with aged care," they said.
The commissioners found that the reviews conducted since 1997 have not questioned the evolution of the aged care system into one more reliant on market forces or re-examined the sector's institutional structures.
"In the months ahead, the royal commission will further explore the need for measures to manage a fragmented market for the delivery of aged care, along with consideration of alternatives."
The royal commission's commitment to systemic reform will be the central purpose of its final report to be handed to the Governor-General on 12 November 2020.
Read more on the interim report
Stakeholders say interim report signals areas for change
'Neglect' – Royal Commission slams home care system
To stay up to date on the latest about the Royal Commission into Aged Care Quality and Safety go to our special coverage. 
Comment below to have your say on this story
Subscribe to Australian Ageing Agenda magazine and sign up to the AAA newsletter