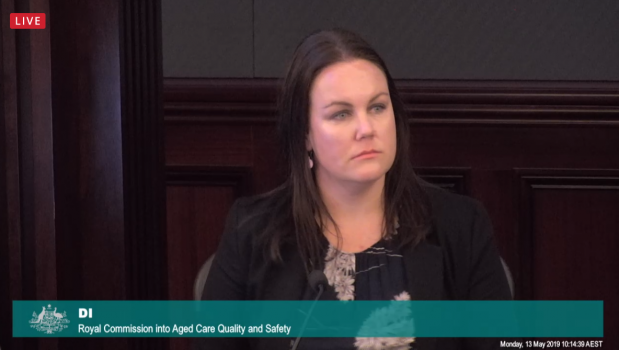 A resident was left unfed during her four-week stay in aged care due to lack of supervision and encouragement during mealtimes from care staff, the aged care royal commission has heard.
The Royal Commission into Aged Care Quality and Safety inquired into the care of Vera, a 69-year old resident at Bupa Aged Care Willoughby in Sydney on Monday.
Vera's two daughters and an executive clinical advisor from Bupa Aged Care gave evidence at today's hearing.
The inquiry heard that Vera was admitted to hospital for several weeks following a fall in the bathroom in February 2017 and when she returned home was assessed for a Level 4 Home Care Package due to her cognitive decline.
She entered Bupa Willoughby after a second fall in May 2017, in which she broke her arm, and because of deteriorating her physical, mental and cognitive health, the inquiry heard.
At the time of admission, Vera's family told the facility about health issues including bedsores, arthritis and the need for assistance with meals, and Vera's reliance on her hearing aids and glasses, and her eating preferences, the inquiry heard.
During visits, family members were concerned Vera was not receiving feeding assistance because they could see trays of food that were untouched, one of Vera's daughter told the inquiry.
However, Vera's food charts indicated she was eating whole meals and drinking cups of tea, she said.
"Mum didn't even drink tea, so she had never had a cup of tea in her life. We thought hang on a minute, that doesn't sound like Mum and then there's a full tray of food in front of her," she told the inquiry.
The witness said when she and her sister visited their mother, they would take the time to feed her and she would eat.
"The appetite was still there. While we didn't expect Bupa to force feed her, to make that effort to help her eat we felt definitely wasn't being made. We started to get quite concerned that perhaps it was just too hard for them [care staff]," she said.
Vera's daughter said during one visit, a speech pathologist showed her a video on how to feed her mother, to which she asked why it wasn't being shown to staff.
She told the inquiry that the speech pathologist said there wasn't much point and that she shows family members because they are usually end up providing assistance with feeding.
"[The speech pathologist] had more faith that me, with a newborn child, is going to be there to feed my mother rather than the nurses and the care staff they have on hand who we had entrusted to do that job," she said.
Vera was unwell and admitted to hospital on 7 July 2017, at which time paramedics found unchewed food and medications in her mouth, the inquiry heard.
Vera also experienced issues with the placement of her hearing aids and glasses. Her daughter said family members had to order hearing aids and glasses for Vera on several occasions including a hearing aid twice in two weeks.
Vera passed away on 15 August 2017. Her daughter lodged a complaint to the Aged Care Complaints Commission in September 2017 after having unresolved complaints with Bupa.
"We felt completely let down by them," she said.
Clinical supervision and leadership lacking
Bupa Aged Care executive clinical advisor Maureen Berry, who was not directly involved in the care of Vera, told the royal commission that Berry said she expected staff at Bupa Willoughby were adequately trained to assist people with cognitive issues with their feeding.
"This would not have been the only resident with a cognitive issue. However, Bupa Willoughby is not a home that has a specialist dementia unit… but there is training and instruction available, but I can't recall the last time staff… had education … on this point of care," Ms Berry told the inquiry.
Vera's pain from her limbs, bedsores and arthritis were assessed using the Abbey pain scale due to her inability to communicate however, her pain was not assessed after 23 July 2017.
Ms Berry said the absence of a continuous pain assessment for Vera was a "serious failure" however the clinical care provided to her was appropriate.
"I think that the clinical care was appropriate. There are times when care provision wasn't as prompt as it could have been or perhaps explained as well as it could have been, or documented as well as it could have been," Ms Berry said.
She said the clinical supervision and leadership were lacking at the facility at the time of Vera's care.
The hearing continues this week and will present evidence from experts on best-practice dementia care.
To stay up to date on the latest about the Royal Commission into Aged Care and Quality go to our special coverage. We will also be issuing regular Royal Commission Roundup reports which you'll receive in addition to your weekly e-newsletters.
Comment below to have your say on this story
Subscribe to Australian Ageing Agenda magazine and sign up to the AAA newsletter