Aged care providers should use the royal commission as a platform to advocate for what they need to deliver quality care and to learn how to best do it, a national aged care conference has heard. 
And they don't need to wait until the commissioners provide their reports and recommendations, YMCA NSW chief operating officer Lisa Giacomelli told the Aged & Community Services Australia National Summit in Melbourne on Tuesday.
Ms Giacomelli led YMCA NSW's responses at the Royal Commission into Institutional Responses to Child Sexual Abuse where it was engaged as a prominent case study over three years.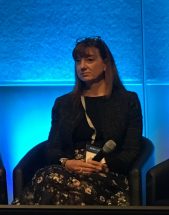 Ms Giacomelli said their responsibility to the royal commission included being as transparent as possible about what contributed to their failures, learning how to become best practice, and speaking up.
"A royal commission is not a one way process. It is not just about a commission asking you questions. It is about you advocating,"  Ms Giacomelli told the summit. 
As a royal commission witness, Ms Giacomelli said she raised the issue of cost. 
"There is a cost to providing high quality responsible care that is consumer driven. And somebody somewhere needs to talk about that."
She said royal commissions were opportunities for advocacy, and particularly collective advocacy, speaking in partnership with vulnerable people and bringing purpose and care to the forefront. 
"And then back that up with what's the cost of doing this and who is going to be responsible for that as a society and as a community." 
Ms Giacomelli said they learned through the royal commission that providing safety is a priority and that costs most.
She said their stakeholders can now understand this ans she believes a similar result will come out of the aged care royal commission.
Make use of best-practice tools
Ms Giacomelli said the royal commission also gives providers the tools they need to define best practice and access to the resources they need to implement it. 
She encouraged providers to make use of the "factory" of experts who are producing a range of papers on best practice for the commission. 
"It is incumbent on sector and industry to avail themselves of that as quickly as possible and to start to say what changes or what information here resonates for us. 
"I don't think we can from a moral perspective wait for the final report of the commission to say this is now what we have to do," Ms Giacomelli said.
She encouraged aged care providers to be proactive and engage with the academics supporting the commission, read the papers and start to make changes. 
"It is about stepping up and grabbing that opportunity with both hands."
Inquiry impacting workforce
Elsewhere at the summit, ACSA CEO Patricia Sparrow said the royal commission was having an "enormous" impact on providers in their requirements to develop information and respond.
It is also more recently affecting recruitment, she said. 
"Providers tell me for the first time they are advertising for positions for which no one is applying," Ms Sparrow told the conference.
Ms Giacomelli encouraged aged care providers to think about how to support their workforce "through the trauma and fatigue" the royal commission can bring an organisation.
She said YMCA NSW was unable to tell good stories publicly about the organisation because if it did, someone would shut them down by saying they employed a paedophile five years ago and had lost their right to talk about what they did.  
"A whole lot of work we did through the royal commission was about how do we support our people; the ones who turn up everyday with good intent, who work hard and who want to make a difference in their communities," she said.
"How do you internally tell those stories? How do you internally recognise that work when to recognise that externally is perhaps not appropriate or a good PR idea," she suggested providers ask themselves and come with up with answers for.
The ACSA National Summit is taking place at the Melbourne Exhibition and Convention Centre on 8-10 October.
Read more from the ACSA National Summit
Colbeck calls for sector to positively promote aged care work
Provider spent years finding the way back to its purpose
Read Community Care Review's summit coverage
New model as self-managed care plummets
Provider told to brace for impact of pricing changes
Home care workers reluctant to report risk
Comment below to have your say on this story
Subscribe to Australian Ageing Agenda magazine and sign up to the AAA newsletter