Aged care staff are expected to shrug off the physical and verbal abuse they experience from residents in their care, a personal care worker has told the aged care royal commission.
The third day of the Sydney hearing of the Royal Commission into Aged Care Quality and Safety heard from Kathryn Nobes, who has been a personal care worker at a residential aged care facility in New South Wales since November 2015.
Ms Nobes, who previously worked in home care, said she has been a victim of physical and verbal abuse from residents with dementia.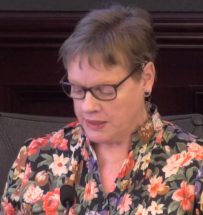 "I was repeatedly assaulted by residents. I have received blows, kicks, headbutts, twisting of the skin on my arms, grabbing and squeezing of my hands and arms, attacks with faeces, verbal abuse and threats," Ms Nobes told the inquiry on Wednesday.
After documenting the assaults there were no real workplace changes, she said.
"You were just sort of expected to deal with it. When I informed my in-charge that I had been assaulted by a resident, the in-charge shrugged their shoulders and said, "that's dementia".
"I think there was an overriding culture in aged care of simply shrugging it off," Ms Nobes said.
Ms Nobes said one of the most "disturbing assaults" happened when she was working with another personal care worker to change a male resident's incontinence pad. She said the resident put his fists into the faeces in the pad before assaulting her.
"He quickly turned towards me and punched me in the breasts. I spun around and he continued to punch me in the arm and in the back. I ended up with his faeces all over my shirt," Ms Nobes said.
"I can't remember if I documented it. I really didn't want to think about it, as I was so shaken," she said.
Ms Nobes received counselling provided by her employer.
"I have found this very helpful in dealing with the stress and psychological trauma of my job," she said.
Ms Nobes said her daughter, who works in the community care sector, does not receive this kind of support.
She said professional counselling would benefit all staff working in aged and disability care.
Call for more staff and training
Ms Nobes said staff working with residents with dementia required more training.
"It's very helpful to understand that this is the disease of the brain, that there can be over 100 diseases that may cause neurological dysfunction. I think we also need more training on how to de-escalate a potentially dangerous situation," she said.
Ms Nobes said there was insufficient staff to support people with dementia.
"People with dementia lack empathy and can be very demanding. They shouldn't be rushed, as this can aggravate aggressive behaviour. So while you attend to one resident, there are up to 17 other residents unattended.
"More staff would also improve the security and safety of other residents," Ms Nobes said.
Medication management
Elsewhere at Wednesday's hearing, the royal commission heard evidence from two daughters of Ms CO, an 84-year old resident at Anglicare's Brian King Gardens facility in Sydney, in relation to the over-prescribing of the antidepressant Mirtazapine.
They told the inquiry that Ms CO was drowsy after being prescribed the drug including on her birthday when she couldn't be woken up from her sleep when family visited her.
Mr Bolster told the royal commission that a dose of 15 milligrams of Mirtazapine is recommended for adults with a gradual increase to 30 or 45 milligrams if required. The maximum dose is 60 milligrams.
However, Ms CO was prescribed 45 milligrams of Mirtazapine from the outset for anxiety and depression from general practitioner Dr Margaret Ginger.
In response to a question from Mr Bolster on whether she was happy today about that prescription, Ms Ginger said she was not happy.
Dr Ginger said she had no explanation for why she prescribed the drug without seeking any other interventions to assist her.
"I really have no explanation why I did that," Dr Ginger told the inquiry.
"We had tried to put her in a safe environment… We did have the pastoral care people coming to see her. Maybe we should have continued with pastoral care visitations," Dr Ginger said.
The hearing continues next week.
To stay up to date on the latest about the Royal Commission into Aged Care and Quality go to our special coverage. We will also be issuing regular Royal Commission Roundup reports which you'll receive in addition to your weekly e-newsletters.
Comment below to have your say on this story
Subscribe to Australian Ageing Agenda magazine and sign up to the AAA newsletter