Before Availcare began I spent many afternoons talking with my grandma. As she quickly became sick with cancer she was faced with modifying her home with grab rails. "But I don't want those ugly rails in my bathroom" said Nan. Well that's all there is, that or nothing, said the installer.
As a product designer I asked the question; how does it make someone feel having a grab rail installed in their bathroom?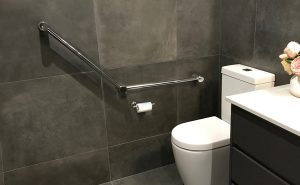 The traditional grab rail design results in 'hospital décor', the associated stigma says they are for sick, injured people. The clinical, depressing style means we put off installing them until we are forced to after an injury or illness.
Now Availcare have created stylish rails and shower seats to complement leading bathroom styles. Our grab rails and shower seats help you prevent slips and falls in the bathroom and they look great to. They are a handy assistant for getting on and off the toilet, stability in the shower, getting in and out of the bathtub and walking up small sets of stairs. Our shower seats make reaching your feet and washing a breeze.
I've been told by some home modification companies that "when people get old they don't care what things look like anymore" … That is so not true!! This is simply an excuse to avoid offering their customer choice, something the aged care industry has finally begun to act on. The recent introduction of Consumer Directed Care now gives everyone choice in the products and services they purchase.
Design has the unique ability to dignify, it can make people feel valued, respected, honoured, seen. On the other side, bad design can leave people demoralized, depressed and uncared for.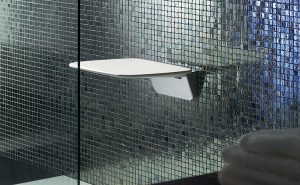 Our customers have a renewed sense of opportunity. They are empowered to continue living an independent life, without the hospital décor.
"It's so nice to find your rails, all the other ones I've seen are just so plain, just because my husband is getting old doesn't mean he has lost his sense of style" Margaret from Noosa
We are creating products people want to have, not just have to have.
"My bathroom looks amazing with the shower seat and grab rails I purchased from Availcare. The products are practical, functional and elegant." Patricia, google review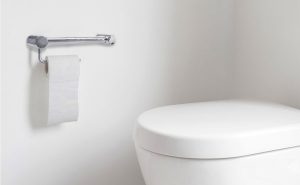 Our customers love them.
"This is so clever & doesn't make you feel like you have a disability it fits into the room like it should be there" Sue
Our bathroom rails have been designed with ease of installation a key factor. The modular design ensures they can be cut down during installation to suit your bathroom. This makes retrofitting them in existing or new bathrooms quick and easy. We offer any length from 300mm up to 1200mm as standard and custom lengths are available on request. Bespoke designs, colours and finishes are available from black to gold, angled, straight and all in between.
Our new range of grab rails double as towel rails and toilet roll holders allowing you to hold on and keep stable as you move around the bathroom.
Availcare rails and seats exceed the Australian standard with the ability to handle over 150kg.  They have been independently tested and approved to AS1428.1 'design for access and mobility'.
We provide discounted prices and free quotes for NDIS, MAC, TAC, DVA and other funded clients.
You can purchase direct from us via our online store, email, phone or through our partner home modification specialists and retailers across Australia including Leef Independent Living Solutions.
Phone Dave on 0400 095 077
Email: info@availcare.com.au
Website: www.availacare.com.au
Facebook: facebook.com/availcares