Our LifeGuard SmartHome IP Dialler is a unique, patented system that offers much more than just a Personal Emergency Response system. It's a comprehensive system that provides a suite of services: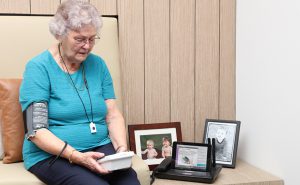 Personal Response – if an emergency arises, simply press a button (either on the SmartHome tablet/dock, your personal wrist or pendant transmitter, or a range for other wireless buttons available) to summon assistance immediately.
TeleHealth – the SmartHome assists with monitoring people's health, particularly those with medical conditions such as diabetes, COPD, chronic heart failure or unstable blood pressure.  Vital signs can be collected automatically via Bluetooth, or manual entry, and sent to a Nurse at INS LifeGuard for monitoring. Clients can even receive a monthly review with a Registered Nurse. Alternatively, your own clinical staff can provide TeleHealth services, with no need to purchase additional hardware or software.
Complete Concierge System – broadcast information to one, several, or all users. Send evacuation alerts, manage tasks, reminders, and concierge services & fees. Update client details, village procedures and protocols. There's even a client portal to empower users to manage their own information held by INS.
Personal Communication Hub –Our optional Telephone Service allows clients to use the IP Dialler as their standard home telephone, with no need for a separate landline, and our optional Internet Browsing service lets them stay in touch with family and friends via Facebook or Skype.

INS LifeGuard nurse consult
Much more than a Personal Response System, our new LifeGuard SmartHome system is the most advanced product in the industry.
This suite of world-patented technologies has received commendations and awards for innovation from the Illawarra Business Awards, the Asia Pacific Eldercare Innovation Awards, and the National Retirement Living Awards.
Who is The INS Group?
The INS Group was established in 1984 as the Illawarra Nursing Service – one of the oldest community care providers in Australia. Our substantial experience in providing health care services in the community has given us a unique perspective in developing advanced technologies for community care organisations, village operators and aged care facilities.
The INS Group is the largest supplier of medical alarms to the independent living sector in Australia/New Zealand. In business for over 30 years, and recognised internationally as an innovator, INS is a private, family-run company.
What sets us apart?
The INS Group is a health care provider. Our Emergency Response Centre is staffed by highly qualified and experienced nurses … that's exclusive to INS LifeGuard!
We offer on-site monitoring options –community care or village organisations may prefer to use their own on-site clinical staff to monitor the alarms and/or TeleHealth services, and INS can accommodate this.
We supply Aged Care Nurse Call Systems. INS can supply and install a comprehensive solution to aged care facilities, allowing on-site monitoring by your nursing staff using a hosted platform. With INS hosting the critical infrastructure, you can relax knowing that updates and support can be easily provided by INS at any time.

INSLifeGuard SmartHome

We use Smart Technology. We've developed a unique, patented I.P. based system that can include so much more than just Personal Emergency Response.
We offer a Superior Service. Our services are prevention-based; they are far more comprehensive, fully flexible and tailored to the individual client's needs. INS LifeGuard exceeds Australian Standards. Indeed, we work under the higher standard required and expected of us as health care providers.
We're NBN ready!  INS LifeGuard's equipment has been tested and will work with the NBN when connected correctly.
We are a contracted provider for the Department of Veterans' Affairs.
1800 636 040
facebook.com/INSLifeGuardAUandNZ