There are many ways that aged care operators can engage residents to help keep their minds active and ensure they're informed on what's happening in their home. Now operators have another tool at their disposal and it's likely something that residents would already have in their rooms: the television.
On average people over the age of 65 are watching around 38 hours of television per week, so it presents a prime opportunity to engage a captive audience. Foxtel's Business iQ has transformed the TV into more than just an entertainment platform. Here's five ways the Business iQ can engage residents.

1. Promote activities happening at their home
With the Business iQ, information can be added to the menu so residents can find out about activities that are taking place at their home. From art classes to bingo and the monthly movie night, ensure residents don't miss out by providing the information on the TV in their room.
2. Advertise the home's services
It's not unusual for an aged care residence to have external services within the home. The Business iQ enables operators to showcase these services directly to the residents via their TV screen. It can promote the services offered by the in-house hairdresser, show the menus and specials available at the on-site cafes and restaurants or could be used to advertise treatments that can be booked at the wellbeing centre.
3. Send messages directly to residents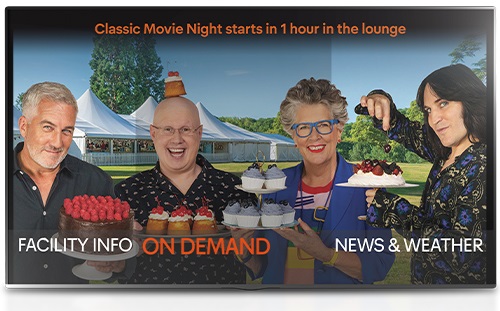 A built-in messaging service allows providers to deliver on-screen messages to individuals or groups – a useful tool to provide reminders to the residents of activities happening that day, or just to issue important information at certain times of the day.
4. Add in additional channels
The platform can enable the provider to insert their own content, such as audio stations, foreign language channels or seniors' exercise channels.
5. Transport residents back in time with the classics
Classic movies and TV shows can help rekindle happy and positive memories for older people. With Foxtel, there are hundreds of old movies and TV programmes, as well as all the latest dramas and popular movies, that your residents can watch live or on demand. Fascinating documentaries can also stimulate curiosity and encourage conversations amongst residents throughout the facility. 
These are just some of the ways the TVs in the residents' rooms can be used to keep them engaged and informed. For a demo of Foxtel's new Business iQ features, please call 1300 659 466 or visit foxtel.com.au/biqh