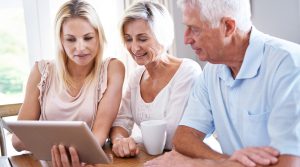 While this would sound easy, we all know that the current aged care sector in Australia cannot simply be given a cash injection to meet the growing and ageing population of tomorrow. The system as a whole needs substantial adjustment and the organisations that are resistant to change will face growing financial and competitive pressures.
The 2019 ACFA report on the Funding and Financing of the Aged Care Industry outlines that both residential care and home care providers experienced a significant financial performance decline in 2017-18, with financial pressures continuing into 2018-19.
While political, social, economic and technological changes affect every industry in Australia, the aged care sector will arguably be one of the industries most impacted by such external forces in the future.
It is projected that by 2061, almost one in four Australians will be 65 and over, where only a few short years ago, this proportion was one in seven. With the country's forecast population growth, this translates to an increase from 3.2 million to as high as 10.6 million people. Should there be a three-fold increase in the number of older Australians, and this cohort continue to experience relatively longer periods of ill-health and, as has been predicted, receive less informal care, it would have a devastating impact on an aged care system already under financial stress.
With enhanced competitive pressures, an ageing population with unique needs and wants, and a changing legislative and funding landscape, the aged care industry is arguably approaching its own transformational era.
Historically, the ratio of older Australians to those of working age has facilitated the current aged care funding structure. In 1970, for each Australian aged over 65, there were 7.5 working aged people to support them. In 2010, the ratio had reduced to 5 working aged people for every Australian aged over 65, and by 2050 it is projected to fall to 2.7.  Financial pressures on the current system and the comparatively higher costs associated with residential care may result in providers needing to operate with static or even proportionally reduced funding.
Moreover, the market is seeing new entrants, strategic partnerships, mergers and diversification of services which additionally continues to disrupt the aged care system status quo. As organisations implement talent acquisition strategies, the movement of key personnel and recruitment of new industry staff will place increased pressures on existing aged care organisations to develop a value proposition for their employees as equally as having one for their customers.
All this brings us to the conclusion that something must change quickly. Change, however, presents opportunities for innovation and growth. Successful organisations of the future will be those that effectively balance commercial imperatives with a quality of care that places residents at the centre of everything they do.
As the industry approaches its 'Aged Care 2.0' moment, it is important that your organisation has a well-defined strategic plan, and your key internal stakeholders are aligned to the organisation's vision.
Download the Whitepaper today to equip yourself and your organisation for the Aged Care 2.0 era.