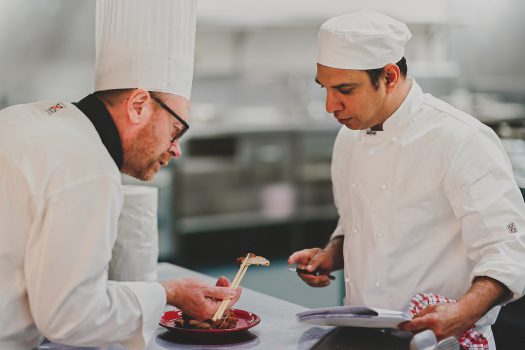 Seven cookery students are starting the new Certificate III in Catering Operations to support their careers working in the aged care sector.
Working with Uniting AgeWell, Vigneesh Selvaraja is pursuing his passion for baking and cooking.
"As a cook and chef since 2013, I have wanted some additional training so was thrilled when my employer sponsored me to do this.
"I am hoping to be head chef and manage my own kitchen in the near future – as I will have the skills to be able to help someone else within the industry to perform in an effective and safe manner.
"This course combines cookery and aged care aspects into the syllabus. This training is important as we all know aged care is a rapidly growing industry where we will all need to know both the basics and more advanced techniques of preparing food for the elderly, especially catering to their dietary needs and allergies," Vigneesh said.
Student Daeanna Sutton is one of a group of cooking students doing the course as part of her employment with Uniting AgeWell.
"As we look after the residents it is important to be aware of any dietary requirements as well," Daeanna said.
Certificate III in Catering Operations (Release 1) is tailored to meet the growing needs of the aged care longevity sector and sets a new benchmark for quality training within the industry.
Participants will train with some independence using plans, policies and procedures to guide work activities covering nutrition, presentation and food textures.
If you are currently working in the industry and are looking to formalise your skills, are a school leaver or new hospitality industry entrant looking to work in Aged Care Longevity, this course is for you.
William Angliss Institute is a recognised industry leader and specialist centre. Our expert instructors are dedicated to delivering a course that will provide you with quality outcomes.
To find out more about the course, visit the William Angliss Institute website, call 1300 ANGLISS or email info@angliss.edu.au.