In this story:
New look BrainyApp
Med management for seniors
Aged care places data at hand
AHURI website goes live
New podcast series targets older Australians
New look BrainyApp
Alzheimer Australia's has today launched a new version of its risk-reduction app to improve brain health to reflect the latest scientific research, engage more with users while still including fun-themed activities such as games and trivia.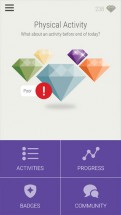 BrainyApp, which is based on research that links brain health and a reduced risk of dementia to a healthy heart and cardiovascular system, has been downloaded more than 370,000 times globally since launching in 2011.
The dementia risk-reduction tool from Alzheimer's Australia and the Bupa Health Foundation is being released today to coincide with Brain Awareness Week 2016, which is held annually from 14-21 March.
The new-look app features:
a community board for users to share photos and status updates with friends as they work towards their brain health goals

a new design and "badges" to track user progress 

a web version of the app, which can be synchronised with the smartphone and tablet apps
Med management for seniors
An new  version of the medication management app MedAdvisor has been released to continue reminding seniors to take their medicines and see a doctor to refill their prescriptions.
The app, which is free for consumers to download and use, connects to a user's prescription records at pharmacies around Australia to make it easier for seniors to get their medicines.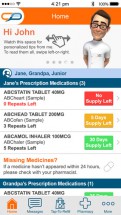 Features include:
Tap-to-Refill

 

to have a prescription waiting at the pharmacy
Snap-and-Send

 

to allow users to send a photo of their script directly to the pharmacy
Take-My-Meds smartphone reminders to help users remember

 

to take doses
Fill-My-Script reminders

 

to notify when running low on a regular prescription

Virtual pharmacist to provide personalized advice on how to use your prescription medication correctly

Automatic medication list to see all prescriptions automatically in one place, including repeats remaining, personalised dose instructions, warnings and interactions
The app can also be to manage medication for multiple people. According to MedAdvisor, more than 115,000 Australians are currently using the app to manage their personal or family prescription medications, and it is linked to a quarter of all Australian pharmacies.
Aged care places data at hand
The Australian Institute of Health and Welfare (AIHW) has launched a new dynamic data display and web page to see a graphical overview of aged care places nationwide.
The National Aged Care Places Stocktake Reporting Tool, which was released last week, provides a quick, user-driven view of the number of operational aged care places in Australia at 30 June from 2006-2015.
The tool summarises the number of aged care services and places into interactive graphical representations that enable the user to obtain an overview or to specify the year, aged care planning region, care type, and provider type, according to the AIHW.
This program requires Adobe Flash Player 11.1 to run.  
See: National Aged Care Places Stocktake Reporting Tool
AHURI website goes live
The Australian Housing and Urban Research Institute (AHURI) has launched a new website to make it easier to find and understand evidence onhousing, homelessness and related issues.
The new mobile-friendly AHURI site aims to improve comprehension of, and engagement with research findings to enhance policy and practice development across Australia, according to AHURI.
Features include:
a new series of in depth policy issue narratives that provide a comprehensive analysis of a major policy issue
an enhanced search function to better connect to the full AHURI research library of reports and papers published from 2000 to 2016
an overview of research in progress including our current Evidence-Based Policy Inquiries
all new infographics presenting key research findings in a meaningful format
the program of upcoming AHURI events and conferences as well as a comprehensive list of presentations, video and audio from past events
New podcast series targets older Australians
State seniors peak body COTA Queensland has launched a weekly podcast focusing on topical issues affecting older Australians. Radio COTA is hosted by media veteran Andy Neil and can be accessed through any mobile device or computer.
See here for more details.
Sign up to Technology Review's weekly e-newsletter for news and analysis, as well as coverage of the latest products, resources and events. You can also follow Technology Review on Twitter. Send your company news, tip-offs and news on tech resources, products and events to negan@intermedia.com.au.