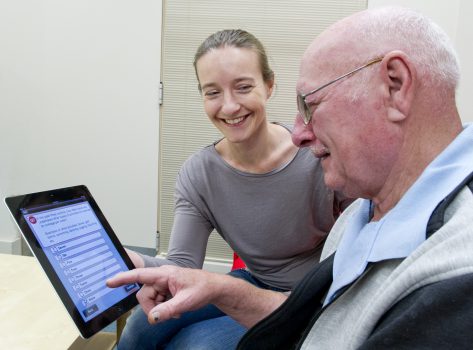 A first-of-its-kind technology-based fall prevention program will deliver a personalised combination of exercise and mental health support to older Australians in their homes.
The research collaboration between NeuRA, University of NSW, the Black Dog Institute, the University of Sydney and the University of Tasmania aims to address gaps in the understanding of falls interventions, application of personalised medicine and the delivery of in-home tech-based fall prevention programs.
The program will include balance and brain training and the management of anxiety, depression and stress through self-managed exercise and cognitive behavioural therapy (CBT), said co-lead investigator Associate Professor Kim Delbaere from NeuRA and UNSW.
"A combination of exercise with CBT has been done before, but it is the first time that it will be offered as a tailored multifaceted best-bet solution," Dr Delbaere told Australian Ageing Agenda.
The trial uses personalised medicine principles and focuses on tailored delivery of all of the three potentially effective intervention programs for each individual, she said.
"Previously this was difficult to achieve because of high associated costs to deliver such programs," said Dr Delbaere.
All components will be delivered using a tablet computer and a series of web and app-based programs without the need for supervision.
"We have opted for using mobile technology because it offers a unique opportunity to deliver complex multifactorial interventions to older people directly, using self-management principles," Dr Delbaere said.
She said poor balance and fear of falling contributed to falls in older people and it has been shown that a deficiency in just one of the domains was sufficient to increase fall risk while multiple deficiencies led to an increased fall risk.
"The combination of exercise and CBT, therefore, is likely to be more successful in preventing falls – especially in those with a diagnosis of anxiety, depression or stress – because it combines simultaneous evidence-based effective strategies to improve both physical skills and mental health."
Study participants
A total of 518 community-dwelling people aged 65 years and over living in the Sydney metropolitan area will be recruited.
Participants will either have a history of falls in the past 6 months, a fear of falling or be aged over 80.
Participants with higher levels of anxiety, depression or stress will receive the myCompass CBT program, Dr Delbaere said.
The program goes for 6 months and all participants are followed up for 1 year for future falls. The trial will begin recruiting in early 2018.
Comment below to have your say on this story
Send us your news and tip-offs to editorial@australianageingagenda.com.au 
Subscribe to Australian Ageing Agenda magazine and sign up to the AAA newsletter