An app that connects aged care residents with the people involved in their care and their support networks has been recognised at the 2018 Winnovation Awards in Adelaide.
The awards celebrate innovative and impactful projects led by women in South Australia.
App developer and occupational therapist Allison Nikula picked up the Emerging Innovator award for the mobile app CareApp.
The app aims to support residents to live well by better connecting aged care providers with residents' family and friends to share information on a resident's health and wellbeing.
Ms Nikula said the app created a digital care community of practice around residents.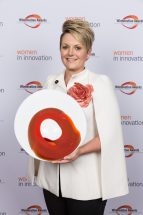 "CareApp sorts members of the community into care circles such as a primary care team, as well as family and friends," Ms Nikula tells Australian Ageing Agenda.
"This enables the organisation to share appropriate information with family at the click of a button," Ms Nikula said.
The cloud-based app is compatible with iOS and Android operating systems and most web browsers, allowing family members to access the system anytime.
"It inspires accountability for care teams and providers and reduces the vulnerability of care recipients by providing a direct and real-time window into their care and wellbeing," Ms Nikula said.
Providers are able to send direct updates to families on their smart phones in the same way teachers send updates about students to parents.
"We are bridging the knowledge gap between a family member, their loved one, the carer and the aged care provider," Ms Nikula said.
She said it also enables family to receive private, real-time notifications and photographs of their loved ones at social outings and activities, she said.
Family are able to feel engaged, confident and reassured about the quality of care their loved one is receiving, Ms Nikula said.
The app also supports healthy ageing in the community through a messaging and check-in function.
"CareApp improves wellbeing and reduces vulnerability through transparent, coordinated and collaborative communication between a strengthened network of support," she said.
Ms Nikula said she saw a need for the app came when her professional and personal lives came together.
She was leading a team of over 400 care workers when her grandparents required aged care services.
"The problem was even though my family wanted to be active contributors to my grandparents' care, communication was fragmented and visibility about their care and wellbeing was poor," she said.
There is evidence linking higher networks of support and better health outcomes, Ms Nikula said.
The Winnovation Awards night was held on 18 October at the National Wine Centre in Adelaide.
Find out more on CareApp here.
Comment below to have your say on this story
Subscribe to Australian Ageing Agenda magazine and sign up to the AAA newsletter