Providers are told to keep up with the emerging digital trends in order to meet the changing demands of aged care residents.
Software manufacturer Epicor director of product marketing Rachel Clayton says the aged care sector now involves multiple stakeholders in the application process, including the resident, their children and grandchildren, and all are expecting the services they want to be available.
"If you know you can go to another provider who will provide those services, you're going to get left behind," Ms Clayton told Australian Ageing Agenda.
She said this is a generation where some residents are willing to pay and "they just expect services to be available to them there and then, and they shouldn't have to wait for it."
Referring to the 'Amazon effect', or the disruption of the retail market by online shopping, Ms Clayton said people want to receive products and services on the same day and don't want to wait.
"People expect to have their own personalised service and whatever they want on hand whenever they want it, and as an aged care provider you really have to keep up with the higher expectations that residents are giving you," Ms Clayton said.
A move towards cloud computing
Epicor regional vice president Greg O'Loan said digital trends in the aged care sector have shown a move towards cloud computing systems because of its accessibility.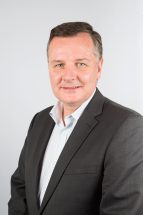 "Cloud computing facilitates a lot more efficiency than running an on-premise system for an aged care provider because connectivity is important," Mr O'Loan told AAA.
Mr O'Loan said the cloud enables connectivity and mobility for aged care providers.
"It should just be there, connected and up and available all the time," he said.
Aged care providers can benefit from keeping up with emerging digital trends through increased efficiency in their organisation, he said.
"The benefit is the transportability of aged care, which is creating a whole set of complexities for providers," Mr O'Loan said.
An example of this is the online Medicare system, he said.
He said providers "need to be able to understand what the individual is entitled to, so they can assist them with all the rebates and what they're entitled to.
"It will give facilities the efficiency to be able to provide those services and also enhance the experience for the residents," Mr O'Loan said.
Digital services should reduce the burden of having to maintain technology within organisations, he said.
"The other side of it is technology isn't supposed to get in the way, it's just meant to be easy. It shouldn't create an overhead or a burden on the facility," Mr O'Loan said.
Providers can respond to these trends through agility and being prepared to move forward with the changing demands, Ms Clayton said.
"People are going to expect online booking, apps, be able to book particular carer online at any time they need it, in which case you as an aged care provider really need to move to meet these demands quickly and flexibly," she said.
Comment below to have your say on this story
Send us your news and tip-offs to [email protected] 
Subscribe to Australian Ageing Agenda magazine and sign up to the AAA newsletter