Aged care provider Allity is trialling a companion robot at one of its facilities in Melbourne.
Developed by Australian-based artificial intelligence start-up Andromeda Robotics, the robot – which is being trialled at Allity Montclaire in Brighton – has been designed to interact with residents in a relaxed and informal manner.
Powered by the Chat GPT-4 AI platform, the robot – named Abi – can recognise residents, answer questions and conduct conversations based on previous interactions. The robot also recognises non-verbal cues.
Thena Johnstone – national pathways manager at Allity – said robots such as Abi could fill-in for staff when they were too time-poor to have conversations with residents. "I see a huge opportunity for robots such as Abi to make a real difference for residents and their quality of life. They can't replace humans but can complement the fantastic levels of care that our staff provide."
Abi is 120 centimetres tall and can gesture and move its head and eyes when interacting with residents. Animation studios Pixar and DreamWorks advised Abi's makers on how to make the robot's body language engaging and empathetic.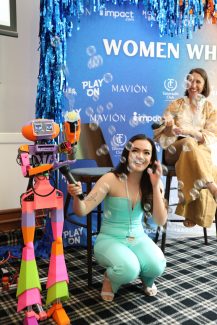 Andromeda founder Grace Brown said the Allity trial was a significant step in Abi's evolution. "Recent advances in technology are helping Abi to take conversational AI to the next level. This is not just when it comes to communicating with people but also making an emotional connection, which is so important."
To assist Andromeda to scale up its development and trial activities, the company has joined the Boab AI Scaleup Program.
The company was also involved in Amazon's AWS Robotics Startup Acceleration Program and raised more than $1 million to help bring the AI product to market.
"This will allow us to continue our development program with the aim of bringing a fully functional robot to market within 18 months," said Ms Brown.
Main image: Allity resident with companion robot Abi
Comment on the story below. Follow Australian Ageing Agenda on Facebook, Twitter and LinkedIn, sign up to our twice-weekly newsletter and subscribe to AAA magazine for the complete aged care picture.