A leading scientist and advocate for smart assistive technologies for the aged and disabled has been awarded ACT Senior Australian of the Year, and has called for a more unified health technology sector.
Professor Greg Tegart, co-chair of the recent Assistive Health Technologies for Independent Living report, told AAA Technology Review he was "completely overwhelmed" upon receiving the award last Monday evening in Canberra.
"It's just fantastic," he said. "I never had any thought that this might happen to me."
Professor Tegart has had a formidable career spanning many areas of science and technology, including metallurgy, engineering and advanced materials. He has had substantial influence on science policy in Australia, having held senior executive and policy positions within the Federal Government, the CSIRO and industry, and headed the APEC Centre for Technology Foresight in Bangkok for over 10 years. Among his many achievements was leading Australia's initial climate change delegation to the Intergovernmental Panel on Climate Change (IPCC) and helping to establish the IPCC in Geneva, a feat recognised in the IPCC's award of the Nobel Peace Prize in 2007.
Most recently, Professor Tegart's focus has been assistive technology and how it can aide the lives of the aged and disabled, helping them to live independently. At age 86, he joked his passion for the area came "with a degree of self-interest" but said that he found it fascinating and an extremely important technology as the population ages.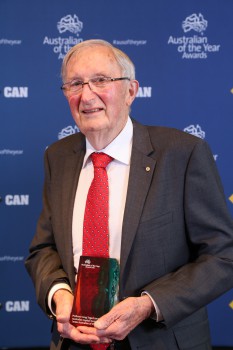 "I've been very interested in the general idea of converging technologies – that's what drove me into this area – how nanotechnology, biotechnology, information technology and cognitive science could work together to produce new solutions to some issues, particularly ageing in place," he said.
In 2012, Professor Tegart established the Australian Academy of Technological Sciences and Engineering's Health and Technology Forum, with the aim to drive innovation and collaboration in assistive technology, and to see the development of industry sectors. He has also led several overseas delegations for young researchers to meet with experts in the field in Taiwan and Europe.
"There's strong nucleus of people interested in it and one of our desires has been to try and pool that into a much more structured network of people," he said.
However, while potential in the area of assistive technology was enormous for Australia, Professor Tegart said there was still a continued tendency for people to work within their own silos. He believed a "tsunami" was about to hit the market, with many non-traditional players, like Google and Microsoft, entering the space. Australia needed to concentrate on integration and user-friendliness in development and commercialisation, lest it be left behind by the likes of Europe, China and Japan, he said.
"We're only a relatively small country, but look at what small countries can do, if you think of Sweden and what it's done, and Finland, for example. We could do a lot more I think in the commercialisation of these technologies if we were rather more organised in the way we approached it. We could speak with one voice rather than a multitude of voices trying to battle over one another," he said.
Professor Tegart said it was incorrect to assume the aged were afraid of technology, and to think so was to doubt the capabilities of older people.
"I'm passionate about ageism, I can't understand why the day before 65 you're useful and the day after 65 you're useless," he said. He noted that even at 86, he had no plans to retire.
"My body tells me I'm old, but my mind is young. I'm still innately curious about things; life in general, people and technologies. I think I've still got something to offer."
Professor Tegart is now in the running for the national Senior Australian of the Year Award to be announced on Australia Day.
Sign up to Technology Review's weekly e-newsletter for news and analysis, as well as coverage of the latest products, resources and events. You can also follow Technology Review on Twitter. Send your company news, tip-offs and news on tech resources, products and events to negan@intermedia.com.au.