Aged care organisations need to advocate for provider access to upload documents to residents' My Health Records, a rural provider has told the sector's national technology conference.
For 30-bed residential aged care provider Amaroo Aged Care in Berrigan in southern New South Wales, all residents having a My Health Record has helped address some of the challenges of providing care in a rural country town.
Earlier this year, Berrigan became the first town in Australia with all key healthcare providers connected to the national e-health system and using the My Health Record (read more here).
At the ITAC 2018 conference in Adelaide on Wednesday, Amaroo Aged Care general manager Andrea O'Neill called on the aged care industry to work together to get providers access to upload resident hospital transfer documents and care plans to the e-health system.
"Doctors can upload any medical information, pharmacists can upload patient medications and make any changes to medications and multipurpose services can upload discharge sheets," Ms O'Neill told Australian Ageing Agenda after her presentation.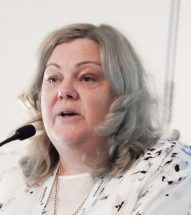 "Unfortunately on our end we currently are unable to upload a transfer sheet, which would give the receiving hospital vital current information on the resident," Ms O'Neill said.
"I need everybody's help in the room today to advocate for the sector because we need [this]. Currently we can't transfer the resident care plans onto the e-health record but we need the sector to work to get that to happen because its about the care of the resident," Ms O'Neill told delegates.
She said the goal was to remove all paperwork.
Improving resident care
Ms O'Neill said there is limited access to doctors and specialists in their rural country town and implementing the My Health Record at Amaroo Aged Care has improved its ability to care for residents.
"We're committed to providing the best possible care at all times, and there are challenges doing that in a rural setting. We turned to technology to help us provide the right care in the right place at the right time," Ms O'Neill told delegates.
Communicating vital information in a timely manner, having access to rapid assessment and diagnosis and enabling faster transitioning of care needs to residents are among the ways My Health Record has improved care for residents, Ms O'Neill said.
"The registered nurse now has the ability to review the resident's medical information and changes through e-health. They are also able to see the doctor's directives from the hospital," she said.
Ms O'Neill encouraged providers to get behind the My Health Record and said its implementation in all aged care facilities was the future of medical care for residents.
"It's the future because it provides improved consumer medicine information and pathology diagnostic imaging content," she said.
The connection to community pharmacies and involvement of all stakeholders will also enable better care for their residents, Ms O'Neill said.
"It brings all the pharmacies on board, which will reduce medication errors. It also brings all the stakeholders together including specialists and allied health professionals to bring up to date information through a case management type approach," she said.
The ITAC 2018 Conference took place at the Adelaide Convention Centre from 21-22 November.
Comment below to have your say on this story
Subscribe to Australian Ageing Agenda magazine and sign up to the AAA newsletter