A cloud-based clinical care system is allowing frontline staff to spend less time on paperwork and more time with aged care residents, a provider CEO has told an industry conference.
The electronic care planning and reporting platform has increased productivity and improved documentation processes, said Ada Cheng, CEO of the Australian Nursing Home Foundation, which provides aged care services to Chinese and South East Asian communities in New South Wales.
"Staff are able to document whenever they deliver care and it allows them to spend more time caring for residents," Ms Cheng told Australian Ageing Agenda following the Future of Aged Care Summit in Sydney last week.
The provider implemented Person Centred Software's Mobile Care Monitoring and Care App system for smart phones in one residential aged care facility earlier this year.
Each resident has an individual profile and staff use the app to record care as they deliver it. Staff can view any care previously provided to residents and review planned care activities, Ms Cheng said.
She said the system has enabled staff to create and maintain well-written care plans that are accessible while staff are on the floor.
"Staff can access all the information whenever it is needed, including residents' preferences and care plans. Important information is available at their fingertips whenever it is needed," Ms Cheng said.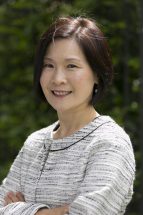 "With less paperwork to complete, staff are less pressured and able to provide better quality of care," she said.
The app minimises duplication as staff only need to record care-related information once. Staff also have greater visibility of all aspects of care and more accountability for their actions, Ms Cheng said.
While the software improves efficiency for staff, it also allows management to monitor care effectively and safely, which aligns with the Aged Care Quality Standards.
"It provides instant access to audit any compliance information and detailed evidence of care to demonstrate to the Aged Care Quality and Safety Commission and other regulatory bodies," Ms Cheng said.
Family members can access the system through a relative gateway app to see care updates and insights into their loved one's day.
Ms Cheng said implementation challenges of the new system included initial reluctance by staff to change and then learning how to use it.
However, after staff got to know and understand the system, they were then able to see how handy the app was, she said. Once they enjoyed using it they were able to begin using the tool effectively, she said.
Ms Cheng said the organisation wants use redirect the time staff saved to put more focus on residents' care needs, preferences and relationships.
The system is now being rolled out to the provider's other residential facilities.
The 4th Future of Aged Care Summit took place at Novotel Sydney Central 25-26 September.
Comment below to have your say on this story
Subscribe to Australian Ageing Agenda magazine and sign up to the AAA newsletter