The NSW Smart Sensing Network is pairing researchers with small businesses including an aged care provider to develop new sensor technologies that actively monitor aged care residents' health and wellbeing.
To develop the tech, researchers from the University of Technology Sydney and the Royal Melbourne Institute of Technology will partner with Australian technology companies, such as Sydney-based firm Vlepis, and Allambie Heights Village, an aged care and retirement living facility in Sydney.
"The project is expected to deliver a smart, ageing-friendly wearable device to improve the wellbeing of at-risk Australians and reduce hospital admissions, save lives and improve access to care in remote communities," NSSN co-director Professor Julien Epps told Australian Ageing Agenda.
Other project partners include Melbourne-based assistive technology company CARETEQ, wellbeing platform Great Communities and manufacturing technology supplier Machinery Forum.
Citing Australia's ageing population, Professor Epps said there is an opportunity for technology to play a major role in supporting older Australians to live healthier and more independent lives, whilst also maintaining immediate access to care.
"The collaboration is a step forward in that direction," said Professor Epps. "The smart sensing solution developed by lead industry partner Vlepis aims to accommodate the unique needs of ageing individuals at home and in hospitals and aged care settings."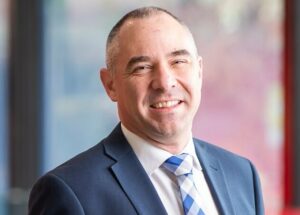 By actively capturing heart rate, blood oxygenation and temperature data, the wearable technology will provide not only an early-warning and prioritisation system for aged care providers, but also highlight emerging risk situations, said Professor Epps. "The result is a new platform that increases the continuity, depth and quality of health and wellbeing measurement."
Once developed, Vlepis plans to trial the technology in aged care homes across NSW. "The facilities will conduct real-world trials and inputs relating to the use of the technology in both residential and independent-living aged care settings," said Professor Epps.
Historically, technological solutions in healthcare settings have often been developed reactively, Professor Epps told AAA. "The ongoing innovation and evolution of sensing technologies provide the sector with unique opportunities to transform the present systems to be more proactive," he said.
NSSN – a not-for-profit network with access to expertise from universities, industry and government – "is well-placed to lead the change, connect stakeholders from across multiple sectors and provide the research and development necessary for building a safe, secure and user-friendly environment for ageing Australians," said Professor Epps.
Comment on the story below. Follow Australian Ageing Agenda on Facebook, Twitter and LinkedIn, sign up to our twice-weekly newsletter and subscribe to AAA magazine for the complete aged care picture.