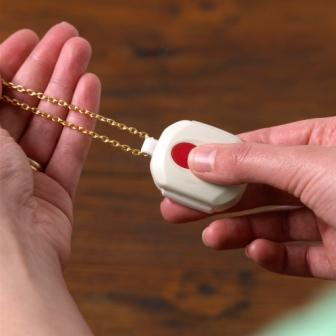 Telecare in practice assists older people to live at home longer.
By Yasmin Noone
Aged care providers, disability organisations, technology manufacturers, biomedical engineers, research and development staff, medical professionals and eminent thinkers are invited to talk to each other about Australia's future.
The Australian Academy of Technological Sciences and Engineering (ATSE) is driving a move to create a new network of key industry players, which will aim to address the 'disconnect' between assistive technology research, commercialisation and practice.
The new emerging assistive and medical technologies (EAMT) network will involve people working in health care on "assistive technologies", as well as aged care and university representatives. Basically, anyone interested in helping Australia climb to the top of the assistive technology world and conquer its future health, aged care and independent living challenges.

The network has the backing of the government, through the Federal Department of Innovation, Industry, Science, Research and Tertiary Education (DIISRTE) and the NSW Government's Trade and Investment Division.
Chair of the ATSE Health and Technology Forum, Professor Greg Tegart, said an Australian EAMT network – which is currently only in its infant stages – is vital to link up the key players in the sector, to enable multidisciplinary communication and bridge the gaps between research and practice.
This will become even more important, he said, as the country moves ahead to address the challenges associated with an ageing population.
"This [network] will need to engage a wide range of stakeholders – including researchers, investors, the medical sector, community organisations, governments, carers and consumers," Prof Tegart said.
"Currently, there are only very limited structures for bringing together these stakeholders to work together on the development and deployment of smart technologies that are needed by the nation.
"The multidisciplinary nature of aged care services across ICT, health and medical care, housing and other services means that many stakeholders and agencies need to work together to fully implement the vision for aged care in the future."
Prof Tegart said the network will seek to promote the development of and bring to market assistive technologies. This will involve facilitating the adoption of innovative approaches, including new technology-enabled capabilities and more effective provision of aged and disabled care and independent living.
It could also help remove barriers to the effective adoption of EAMTs to enable healthy independent living, provide access to information and expertise, analyse and advise on regulations and standards and promote collaboration between researchers, industry, government and users.
The move to create a network followed on from a workshop in October, organised by ATSE and supported by the various government departments backing the idea of the network.
The workshop confirmed the need for a network to facilitate the adoption of innovative approaches, including new technology-enabled capabilities and more effective provision of aged and disabled care and independent living.
Global Community Resourcing spokesperson and part of ATSE's steering committee, Anne Livingstone said that so far, the network has the support of about 30 industry representatives who attended the workshop. On the list was Feros Care, and even though a spokesperson for the National Aged Care Alliance could not attend in person, the group is said to have given the network its support.
"It is a multidisciplinary network that's across ITC, health, medical care, housing and a range of interest groups," Ms Livingstone said.
"This network is being pitched at creatively linking people together [so we can tackle] some of Australia's biggest issues, ie: healthy ageing."
Ms Livingstone has encouraged interested aged and community care service providers, technology experts, medical groups, assistive technology manufacturers, rehabilitation professionals, disability groups and others, to join the network.
"It is about linking research development and industry, and its prime role is to promote enabling technologies that give people the opportunity to live more independently, and to encourage people to access services and leading edge technologies."
ATSE plans to develop a draft business plan for the network before the end of the year with the aim of launching an EAMT Network and position paper, early in 2013.
"The network is of significant importance to Australia.
"It is of economic importance – there is a need to develop Australian industries around this agenda and there are lots of opportunities for Australia to take the lead in developing these technologies."
The business plan will determine the 'how' the network's goals will be realised, and will be based on input from the aged care, health and disability sectors, university groups, commercial organisations, researchers, technology experts and more.
"We are still at an early stage. But the network will not be seen as a passive network. We will use technology to interact with members in a different way. The brief of the network is that it will be very innovative and participatory.
"…And it will feature a lot of interests beyond health."
For more information about the network or to get involved, email ATSE via Harriet Harden-Davies, Harriet.Harden-Davies@atse.org.au