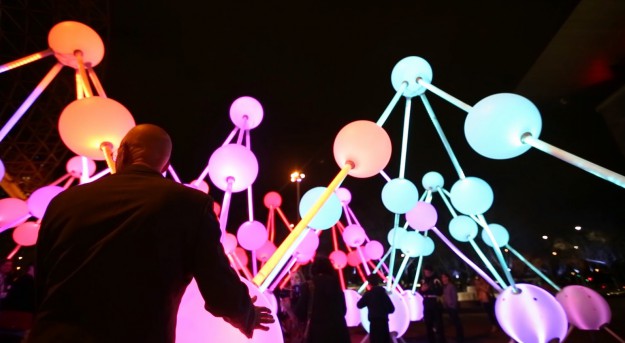 An interactive light sculpture representing the brain that aims to engage the public and help people understand the importance of stimulating the brain is on show in Melbourne as part of Dementia Awareness Month activities.
The lights of Affinity, which is installed in the forecourt of the Arts Centre Melbourne, were switched on last Thursday evening, a ritual which will continue at dusk daily for the remainder of the week.
Alzheimer's Australia Vic CEO Maree McCabe said Affinity was a vivid, brilliant display of art and technology helping to raise awareness about how our brains work.
"At 12 metres squared by 6 metres at its highest point, the scale and beauty of the sculpture is striking," Ms McCabe said.
Affinity is a web of interconnected orbs representing neurons in the brain created by Australian artistic groups S1T2 and amigo and amigo.
Visitors can wander through the sculpture and touch the orbs to stimulate the display of sound and light, which represent the rapid-fire transmission of messages between neurons, Ms McCabe said.
"As people explore the installation, audio of personal stories of people impacted by dementia as well as facts and figures about the disease emanate from the orbs to enhance the experience," she said.
Alzheimer's Australia Vic research showed that despite being the second leading cause of death in Australia, many people don't understand dementia.
"Affinity is a unique way to start conversations with people about what dementia is, the impact it has and what people can do to learn more about dementia" said Ms McCabe.
"Most importantly, during Dementia Awareness Month, we particularly wish to highlight to all Victorians that Alzheimer's Australia Vic is here to provide support, information and education," Ms McCabe said.
Members of the public are encouraged to share their Affinity experience on social media by sharing photographs and using the hashtag #HighlightDementia.
Affinity is on display in the forecourt of the Arts Centre Melbourne, 100 St Kilda Road Melbourne. The lights are on from dusk each night until Sunday 27 September.
Sign up to Technology Review's weekly e-newsletter for news and analysis, as well as coverage of the latest products, resources and events. You can also follow Technology Review on Twitter. Send your company news, tip-offs and news on tech resources, products and events to negan@intermedia.com.au.