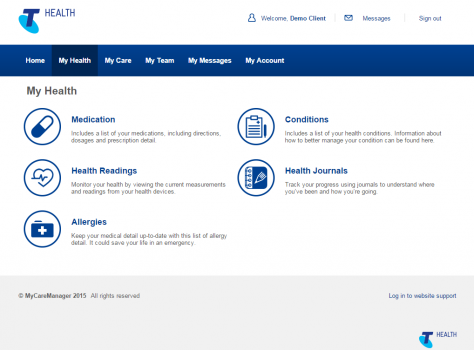 Telstra health has launched an e-health solution for the aged and community care and disability sectors that includes a self-service portal and telehealth monitoring platform for clients.
MyCareManager features an online portal for workers, clients and families, telemonitoring through wireless health devices or manual input, web-based videoconferencing with any internet-enabled device, and an integration engine that allows information sharing with a service provider's existing clinical, service and client management systems.
It has been designed for applications such as consumer directed care, chronic disease, medication and wound management and remote medical consultation and aims to increase efficiency, productivity and care collaboration capability for service providers and improve visibility and engagement for clients to help them self-manage their health.
Speaking at the launch in Sydney on Thursday, Telstra Health managing director Shane Solomon said MyCareManager was the first integrated e-health solution that combined the capability and technology of a number of Telstra Health's acquired companies and partners including HealthConnex, Get Real Health, Entra Health Systems and Pexip.
It has been developed by HeathConnex, the aged care software vendor for TCM, with industry input from community care providers including Silver Chain and RDNS.
HealthConnex managing director Peter Young said MyCareManager had already been integrated with TCM and ComCare, Silver Chain's client and resource management solution, and could be integrated with other systems that providers wanted.
"We want this to be the basic application that everyone can use," Mr Young told Australian Ageing Agenda.
Integration with other systems is possible through FIHR (Fast Healthcare Interoperability Resources), which is a draft standard for exchanging e-health records, he said.
Silver Chain's application
At the event, Silver Chain Group CIO Lee Davis introduced Care Centre, which is Silver Chain's branded MyCareManager solution it is launching to assist with its Hospital in the Home program.
The solution allows them to share a single client record between acute care and community care providers without the client and hospital management systems being connected, he said.
"We are now working with HealthConnex on rolling out the solution across several program areas, including aged care, chronic disease management and nursing. Providing many Silver Chain Group clients with access to their own record and details of the services being delivered to them at any given time is a key component of a self-service capability," Mr Davis said.
Mr Young said to support providers to deliver their services to their clients, MyCareManager could be easily configured to suit their needs, brand and the features they wanted.
"It is like build your own website. It has all the widgets. They do it themselves or we can do it. It has a whole construction engine that allows you to build the site."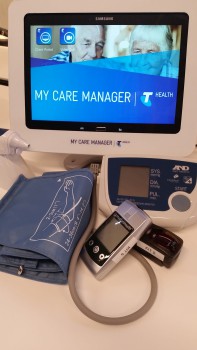 The pricing structure is variable dependent upon what features are used but it is "definitely designed to be sustainable" for providers, Mr Young said. Everything is Australian based, all delivered out of the cloud and a pure subscription based model, he said.
The home hub is an Andriod tablet that functions as the portal, video conference device, and wireless Bluetooth hub for monitoring devices. It also supports a client's own devices and manual data entry.
A provider can also opt for a tablet with a SIM card that could be sent to a client and be used out of the box as a plug and go option with no need for third-party installation, which Mr Young said might be suitable for clients with short-term needs.
From 1 July, MyCareManager will have capability to send client financial statements to home care clients, as required for all consumer directed care packages, he said.
My Young said with MyCareManager they aimed to develop an affordable platform that harnessed the already proven benefits of telehealth such as identified through successive pilots. Future capability would include passive monitoring via sensor technology and personal alarms.
Positive reception
Speaking to AAA at the launch, CEO of community care provider KinCare, Jason Howie, said he was excited to see an organisation the size of and weight of Telstra joining this space and putting its marketing muscle behind a genuine industry solution.
"It is the type of product that we can use to pull together a whole lot of different products," Mr Howie told AAA.
"It will integrate quite cleverly with a lot of other solutions that we have got. We see it as being an enhancement to our existing systems that would simplify some of the development work that needs doing in the future."
Mr Howie said the sector was at an inflection point in terms of the adoption of a lot of these home care technologies. One of the things that has prevented them really from taking off until now is a product that could pull everything together, he said
"[MyCareManager] has the capacity to be a contributing factor to the take-off of these technologies and I am expecting to see a much wider spread of adoption over the next five years."