Aged care technology needs to be co-designed with members of the workforce to ensure its fit for purpose, an industry forum has heard.
The ITAC 2021 International Forum heard from a panel of experts on Tuesday about developing an evidence-based aged care system, the role of research and how the aged care sector can support research.
Swinburne University of Technology's director of the Future Self and Design Living Lab Associate Professor Sonja Pedell said the aged care workforce needed to be involved in technology development.
"It's important to integrate them in the co-design process and understand their everyday work life," Associate Professor Pedell told the ITAC 2021 International Forum.
"There is an assumption that technology must be in the foreground, but the truth is, technology should be very much in the background and not the focus of attention," she said.
"When we understand the work practices very well and [work] together with staff… we can then also develop technologies that accommodate these work contexts."
Professor Len Gray, director of the Centre for Health Services Research at the University of Queensland, said the aged care workforce needed to be better integrated into research.
"We want to cultivate an environment where the process of collecting and recording data creates magic for the person that's doing it in terms of helping them to make decisions, giving them an opportunity to learn as they do that, and using that environment as an evolving and learning opportunity for offering evidence based practice," Professor Gray told the forum.
"It's got to be done in a way that it's not tying you to a desk, but rather it's done in the process of interacting with individuals."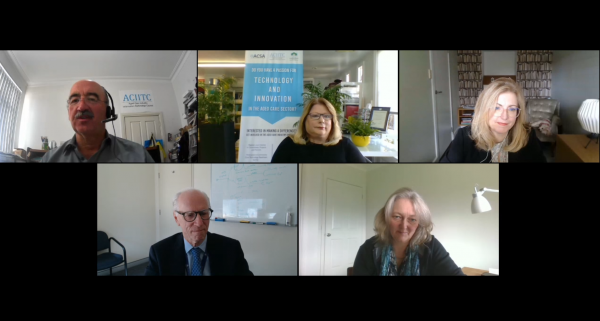 Advancing the evidence base
The forum also heard from Professor Johanna Westbrook, director of the Centre for Health Systems and Safety Research at Macquarie University, who said long-term partnerships between researchers and technology partners were needed to avoid large scale projects that fail deliver the desired outcomes.
"I also do think that there is a role for ensuring that our research is very robust. And then when we come up with these interventions, which are informed by talking to people and the best evidence that you have available, that we also subject them to good evaluations with strong research designs. That needs to be multi method," Professor Westbrook told the forum.
"If we're going to advance the aged care evidence base, we need to be providing robust evidence. It really comes in place of where it's often just anecdotal to moving to small interviews and a bit of data collection not done very well. We need to move on to the quality of the evidence further. But we need to embrace multiple methods."
Associate Professor Pedell said it came down to scaling and that there was no problem in starting a project on a smaller scale to dig deep and understand it.
But it will often needed to be carefully adapted when it is scaled, she said.
"In order to achieve that scaling, it's going back to collaboration, the network and ecosystem, where we then can exchange our knowledge and adapt solutions.
"If you set up a project that's really big, then it can be problematic because it is harder to have that merging and bottom up approach of co-design and integrating all the rich knowledge and the stakeholders."
The key is in the communication and exchange between collaborating partners and taking the time to measure and evaluate the impact, she said.
The ITAC 2021 International Forum took place on 13 July.
Comment on the story below. Follow Australian Ageing Agenda on Facebook, Twitter and LinkedIn, sign up to our twice-weekly newsletter and subscribe to AAA magazine for the complete aged care picture.