This article currently appears in the September 2013 edition of Australian Ageing Agenda Technology Review.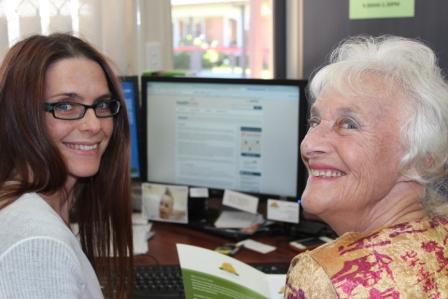 Feros Care staff member Fiona Kable helping Feros Village Byron Bay resident Jacky McGouan connect to the national eHealth system
By Natasha Egan
"Our goal right now is to integrate the PCEHR registration for clients as a part of our standard assessment processes with hopefully a majority of our clients being progressively registered by the end of 2013."
Jacky McGouan, a resident of low care aged care facility Feros Village Byron Bay on the New South Wales north coast, is one of an increasing number of older Australians who has registered with the government's personally controlled electronic health (PCEHR), or eHealth, system, since it went live in July 2012.
As of 18 July this year, 86,063 people aged 65 years or older have an eHealth record, according to figures supplied by the Department of Health and Ageing (DoHA), accounting for around 16.5 per cent of registrations at that date.
It is not possible to tell how many of those registered are aged care recipients, the departments says. But early adopters are slightly more likely to be men with 44,405 male and 41,658 females 65 or over registered.
And two-thirds of those seniors live in major Australian cities (64 per cent), with 25 per cent living in inner-regional areas, 10 per cent in outer regional Australia, and just over 1 per cent residing in remote and very remote areas combined.
McGouan has signed up for an eHealth record thanks to her service provider, Feros Care, which is running a program that aims to provide information about the PCEHR to all of its clients and assist those interested with registering.
Feros Care, which is known for its early adoption of technology, is keen to utilise the eHealth system because it will allow integrated care among primary health providers, hospitals and other providers in the client's health network, says CEO Jennene Buckley.
The commitment is embedded in the not-for-profit organisation's strategic plan and operationalised via this project.
"We have a PCEHR policy and a number of procedures providing the step-by-step process for informing clients about the record and assisting them to register. We also provide brochures and essential information to clients to ensure their decision to register is an informed one," Buckley says.
Before assisted-registrations could be rolled out, Buckley says Feros had to ensure its software, TCM, was able to connect electronically with the PCEHR. After successfully doing that, they started training staff and engaging with clients.
"We have tried all the registration methods and found the phone or using the ART (Assisted Registration Tool) are the registration methods our clients prefer."
While introducing the PCEHR has been challenging and time-consuming Buckley says it will be worth the effort in the long term with better health outcomes and more effective services for clients.
Except for a small cohort of clients it registered as part of a commonwealth-funded NBN-enabled Telehealth pilot in Coffs Harbour, Feros Care is registering clients at its own expense. While doctors can use the Medicare Benefit Scheme to bill for registering a patient with a PCEHR via consultation items, aged care providers have no way of recouping the cost.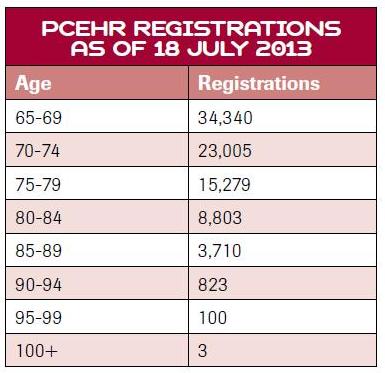 Source: Department of Health and Ageing (DoHA)
Reviewing industry readiness
Due to the absence of a sector-wide plan and complementary funding, few other providers have been as fast as Feros Care to actively encourage and assist their clients to connect to the eHealth system.
That is despite stakeholders, including the government, agreeing that older Australians, and especially aged care recipients, are an obvious target group for the opt-in eHealth system.
"The PCEHR will generate many benefits for older Australians including residents of aged care facilities, their families and providers through the delivery of more effective healthcare," a spokeswoman for DoHA says.
Similarly, Ian Yates, chief executive of seniors advocacy organisation COTA Australia, says there are positives for community and residential aged care clients and providers alike if consumers sign up.
"There are real benefits in this as older frailer people move between aged care and acute hospitals or community and acute hospital settings. These transitions of care would be easier and there would be enhanced continuity of care with a PCEHR," Yates says.
But as yet, there is no national plan or policy initiative in place or on the agenda to make it happen. However, there is indication that something might be coming.
The provider peaks Aged and Community Services Australia and Leading Age Services Australia through its jointly owned Aged Care Industry Information Technology Council (ACIITC) investigated how to increase the uptake of PCEHR among aged care clients as part of the commonwealth-funded Pathfinder Project.
The council proposed a funded model to encourage sector-wide uptake rapidly in a report submitted to DoHA in August 2012, which the department has not released.
The Pathfinder Project, which was funded to enhance the readiness of the aged care sector to adopt the PCEHR system, is nearing completion, a DoHA spokeswoman told AAA Technology Review. It has already resulted in updates to aged care software to support use of the PCEHR in residential aged care facilities, she says.
"When finalised it will also deliver a national deployment plan, guidance materials to assist facilities to move to an electronic environment and education materials for aged care service providers and their staff. These materials are expected to be available by December 2013," she says.
Up until now, the department has been working with COTA, National Seniors Australia and the Association of Independent Retirees to provide information on the PCEHR to members.
Yates says for their part, COTA has been encouraging its members to sign up with all the branches promoting the eHealth system through brochures in their offices. They have also been running activities in partnership with the government during occasions like Seniors Week.
To improve take up rates among aged care clients, Yates suggests a policy initiative to make it part of the admission policy for residential aged care.
This is the path that Feros Care is taking. While it is still early says – it has assisted 55 clients to date – the plan is to move quickly from here, Buckley says.
"Our goal right now is to integrate the PCEHR registration for clients as a part of our Care Managers standard assessment processes and service we offer to our clients, with hopefully a majority of our clients being progressively registered by the end of 2013."
Source: DoHA
Success on a large scale
On a much bigger scale with tens-of-thousands of assisted registrations under its belt,
Calvary Health Care is another provider which has been busy signing up clients and members of the wider community in southern NSW and the ACT and embedding the process into admission practices. Calvary's services include private and public hospitals, residential and community aged care, retirement living, and palliative care.
Calvary eHealth has been working with the federal government for almost three years developing the model and has been actively registering people for an ehealth record since the system went live, says Andrew Heslop, Calvary eHealth's marketing communications manager.
"We have found our patients, and people in the community more widely, enormously receptive to eHealth records. It has allowed us to date to register more than 35,000 people," Heslop says.
The campaign started with a direct mail out to more than 80,000 of Calvary's private and public hospital patients and has been the basis of the success, Heslop says. It was followed up with television and print advertising plus Heslop and his team attended major events in the target region.
While the team hasn't been keeping count, Heslop says there is a strong representation of older Australians and aged care clients within their total of assisted registrations. They have achieved it through targeting the Calvary and other retirement and aged care communities in the region. Plus they have visited Probus, Lions and Rotary clubs, and other groups where older Australians have membership.
"Our experience has been enormously positive," Heslop says. "We have found in general terms, particularly for older Australians, they might not be adept or skilled computer users to be able to access it from home.
"What they overwhelmingly want is the safety and convenience of knowing that their information is in one space and can be accessed by doctors and hospitals securely over time anywhere in Australia."
The Cavalry eHealth team, and this project, is due to finish at the end of September. But, as per the project requirements, the processes to encourage registration have been embedded in the organisation's procedures so that new patients and aged care clients will continue to have the opportunity to sign up, Heslop says.
Looking at the bigger picture, Heslop says their deployment model could be successfully replicated in other areas. "We have offered the Department of Health and Ageing the opportunity to roll out our successful campaign nationally. As yet, we haven't had a formal response."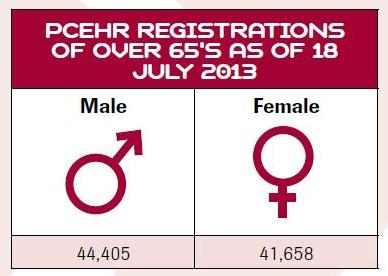 Source: DoHA