AUDIO: AAA meets the designer behind a state of the art facility in Aalborg, Denmark which is utilising technology and public spaces to revolutionise the concept of an aged care facility.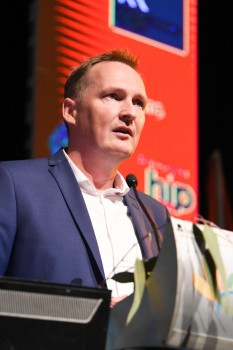 The facility consists of 75 apartments, a medical and dental clinic, a fitness centre, several themed rooms, and a public restaurant.
Speaking at the ACSA/IAHSA Joint International Conference last week, Thomas Norkaer, head of design in the Aalborg Care Consortium and the design lead for the project, said the home was divided into public areas, semi-public rooms and private spaces.
A public restaurant within the home provides a focal point for interaction with the local community and seniors in Aalborg are granted free access to the facility's fitness area and activities.
Mr Norkaer said a 'living lab' provides a meeting place for residents, university researchers and technology companies to trial new technology. Examples include a physical rehabilitation robot and a mobility monitoring system, which aims to prevent residents from developing pressure ulcers.
Technologies currently in use in the home include ceiling lift systems, adjustable bathroom sinks and sensor floors that sound an alarm when a resident falls or has not returned to their bed.
After his presentation, Thomas Norkaer spoke to AAA's Linda Belardi about the key features of the home and his efforts to export the concept globally: