Seniors with difficulty hearing on the phone are being urged to take advantage of a subsidised service featuring a telephone that amplifies sound and displays word-for-word captions of everything the other person on the call says.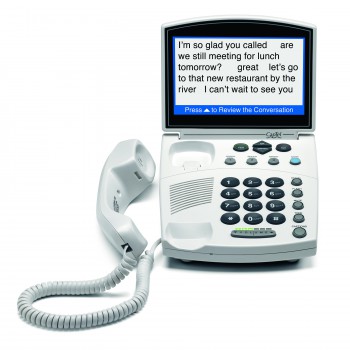 Otherwise similar to a traditional telephone, the CapTel handset has big buttons and a large built-in screen that displays captions provided through the National Relay Service.
The captioning service is fully-funded by the Federal Government and handsets can be rented across Australia for $55 a year plus a $50 refundable deposit.
Anyone who struggles to hear on the phone should sign up for this free national service, said Richelle South, general manager of AccessComm, which distributes the CapTel telephone.
"Users get amplified sound first and if they miss what is being said they can read the words on the bright display screen," Ms South told Technology Review.
"We have many users throughout Australia, mostly seniors, who can once again communicate with their families giving them independence and their families a sense of security knowing they can be reached and communicated with," she said.
AccessComm launched an advocacy and in-home support service this year for CapTel, which has been available in Australia since 2012, to help increase uptake of the technology, Ms South said.
Currently operating in Queensland, NSW and the ACT with training underway in Victoria, support teams are available to install the phone in the user's home and provide training on how to use it at no additional cost. CapTel community officers are also available to make presentations to community groups or retirement villages at no charge.
Technical and service information
CapTel amplifies the caller's voice by 40db when captions are on to assist in using any residual hearing the user may have
the phone is not amplified and works like a regular telephone when captions are off for those in the home that don't need it
the handset requires an internet connection for the captioning service, but data usage is extremely low
for those without internet, AccessComm can offer simple solutions for basic internet specifically for the telephone
internet usage and telephone calls are charged at the standard call rate through a user's telecommunications provider
there is a 90-day money back guarantee on the rental fee to enable a trial of the service
the $50 deposit is refunded whenever the phone is returned
Go to www.accesscomm.com.au or call 1300 107 546 to order the service, arrange a community presentation or find out more.
Sign up to Technology Review's weekly e-newsletter for news and analysis, as well as coverage of the latest products, resources and events. You can also follow Technology Review on Twitter. Send your company news, tip-offs and news on tech resources, products and events to negan@intermedia.com.au.