NSW's western health district is working with health and aged care providers on the ground to use telehealth to deliver services, particularly in rural and remote areas.
Older people and aged care facilities are among those being targeted in a major telehealth strategy in NSW, which aims to lead the way nationally.
New South Wales' western health district is aiming to improve access to best quality healthcare for its mostly rural and remote population, says the region's medical director.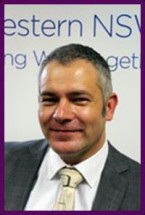 The telehealth strategy targets everyone in the district, but some need it more desperately than others, such as the elderly and aboriginal populations, said Dr Clayton Spencer, Western NSW Local Health District director of medical services.
In partnership with the Rural and Remote Medical Services, the district is currently investigating how to best provide care to their state aged care facilities including via telehealth.
"We have some groups that we are focused on first but ultimately the aim is to provide a better health service for everyone regardless of who they are and where they live. If you live in a remote postcode we want you to be able to access high quality healthcare," Dr Spencer told Technology Review.
The local population, which includes a high percentage of aboriginal and farming communities, is already benefiting from telehealth services for renal and acute care and pain treatment with more applications on the way including a fracture clinic and psychiatry services.
Dr Spencer is head doctor for the area, which comprises 37 hospitals and 7,000 staff and stretches from Oberon and Bathurst to Dubbo, Cobar, Bourke and Lightning Ridge.
He said people living in rural and remote communities suffered worse health outcomes as a rule around the world, not just in Australia.
"Our ethos is that we want to redress that imbalance and start to get much better outcomes, and telehealth is one way we can do it," Dr Spencer said.
"Our goal is to be the world leader in health. With telehealth, if we can keep delivering what we are delivering, in a year's time we will be doing something the rest of the country can really benefit from."
NSW Deputy Premier Troy Grant and Health Minister Jillian Skinner launched the district's telehealth strategy in January, but Dr Spencer said they have been working on its development over the past 18 months.
"We started down this path because people had to travel large distances to access particularly specialist care. People had to travel to Dubbo, Orange or Sydney, [but] we felt we could provide that care through telemedicine."
With the assistance of KPMG they have developed a comprehensive plan, which aims to have the patient stay close to home wherever possible to reduce the impacts on them and their family, the need to fly doctors in and subsequent transport costs, he said.
"We have come up with a strategy that allows us to provide care in some of our more remote hospitals close to the patient's home so they can come to the local centre and see a cardiologist or any other type of specialist through our technology," Dr Spencer said.
"Ultimately the idea is not just to do it from hospital to hospital but actually to be able to serve the community from hospital to general practice then from hospital to home."
He said face-to-face healthcare would continue, but they would look to telehealth or telemedicine to fill any service gaps.
"Its improving access for patients who don't currently see specialists. It means they can see a specialist in a much more timely manner. They are not waiting for months. Most importantly they are not having to travel for follow ups, for instance, when they have been really sick."
Current programs
New telehealth programs in the region include connecting smaller hospitals with bigger hospitals for staff training and supervision to assist clinicians who often feel isolated professionally, as well as a clinic for patients with chronic pain and a service for renal dialysis patients.
Specialist nurses or doctors at the renal clinic in Dubbo can see and speak with a patient in Walgett, for example, who is receiving their thrice-weekly dialysis treatment, said Dr Spencer.
"They can look at the blood results, take a history and they can ensure that the patient can be maintained closer to home. That's a good service. In that situation the alternative was they had to go to Dubbo or someone had to go to Walgett."
Next on the agenda is utilising telehealth for psychiatry services and a fracture clinic, which is due to start soon.
"The possibilities are endless. We have currently people asking for projects all the time and we are only limited by our capacity to support them at the moment," Dr Spencer said.
Don't miss the forthcoming issue of Technology Review magazine for an in-depth report on the district's telehealth strategy.
Sign up to Technology Review's weekly e-newsletter for news and analysis, as well as coverage of the latest products, resources and events. You can also follow Technology Review on Twitter. Send your company news, tip-offs and news on tech resources, products and events to negan@intermedia.com.au.