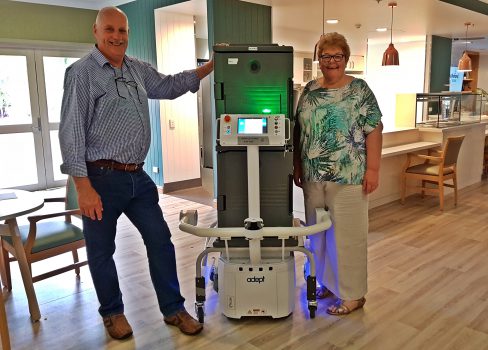 After months of planning and refining, multicultural aged care service MiCare has introduced autonomous mobile robots into Prinz Willem Alexander Village in Queensland with plans to install them in two new facilities in Victoria.
Following a soft launch in November, the two Lamson robocarts officially start duties on December 8.
The autonomous mobile robots (AMRs) have been a familiar sight around the corridors, living and work areas for six months as they and staff have learned to work and adjust in the environment.
One is named Nell after a long-standing resident and the other Olaf, after the character in the movie Frozen who likes warm hugs.
MiCare's project manager Olaf Zalmstra introduced the technology and provided learnings from the project at the Information Technology in Aged Care Conference on the Gold Coast on Tuesday 21 November.
He said the organisation introduced AMRs to make life easier for staff and more enjoyable for residents.
"Talking to Lamson led to our reviewing how to improve our efficiencies, reduce our occupational health and safety costs and give back staff time to the elders for whom we care," Mr Zalmstra told Australian Ageing Agenda in an exclusive preview ahead of his appearance at ITAC.
"Our investigations indicated that we would spend more than 4,000 hours a year pushing delivery trollies – a whopping 11 hours a day – and travelling nearly 8,000kms, equivalent from Melbourne to Cairns and back.
"We looked at every conceivable trolley pushing option, starting with meals and laundry service areas. Our first requirement was how and where the robots would go, would they fit and how responsive and sensitive are the laser beams moving the robots," he said.
Mr Zalmstra said he believed the AMRs were a positive innovation for Australian aged care.
"Historically, robotics in industry meant automation with machines performing more effectively than humans. Now innovation highlights what people and robots can do better together; acknowledging and building upon human capability," he said.
On the financial side, Mr Zalmstra said robotics provided immediate outcomes including a fast return on investment.
They can also minimise damage to building interiors, reduce work health and safety claims and provide workflow efficiencies by taking out unnecessary leg work and giving staff more time to focus on their core area of work with residents, he said.
"MiCare's AMRs have aged care specific trolleys for meal delivery, dirty linen collection, clean linen delivery, personal clothing distribution, waste management and medical and housekeeping supplies," said Mr Zalmstra.
The trollies carry up to 130 kilograms, which is ample for the aged care sector, he said.
Mr Zalmstra said resident and family acceptance has been both crucial and positive to the use of the AMRs.
"The impact on staff morale has been great as well, with the feeling that the organisation is giving them the tools to do their job," he said.
As former chief finance officer for DutchCare prior to its transition into MiCare, Mr Zalmstra said he was keenly aware of the return on investment.
"It can be anywhere from zero to four years depending on the size of the facility and how savings are treated.
"It's achievable even without taking into account future work health and safety claims and damage to décor," he said.
Mr Zalmstra said other aged care providers could learn from MiCare's experiences, especially if planning a new site or a redevelopment and that he was happy to help others "avoid reinventing the wheel".
While it has taken MiCare 12 months to have the AMRs fully-operational, he said it should be a quicker process for future installations.
Australian Ageing Agenda is a media partner for ITAC.
Comment below to have your say on this story
Send us your news and tip-offs to editorial@australianageingagenda.com.au 
Subscribe to Australian Ageing Agenda magazine and sign up to the AAA newsletter