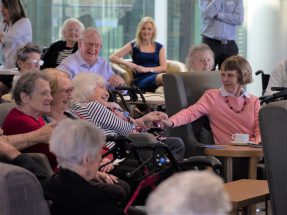 A forthcoming digital platform aims to give consumers a voice and allow them and providers to compare residential aged care services across a range of quality-of-life measures.
Happy Life Index, which is expected to be available by the end of the year, will offer aged care providers free and paid-for features including the ability to measure their performance against quality indicators and respond to resident feedback.
The platform has been co-designed with senior Australians and measures aged care consumer engagement and quality of life indicators including food quality, care quality, friendliness of staff, activities, lifestyle, environment, cleanliness and management.
The tool, which was unveiled at BlueCross Ivanhoe in Victoria on Wednesday, is being developed by industry peak the Aged Care Guild and aged care review platform CarePage.
The platform aims to provide opportunity to consumers to speak up and to providers to measure their performance, said Aged Care Guild CEO Matthew Richter, who first announced the tool at an aged care royal commission hearing early this year (read our story here).
"The Happy Life Index… gives residents a true and continuous voice, while aged care homes gain a deeper understanding of their performance where it counts most," Mr Richter told Australian Ageing Agenda.
"[Providers can] compare their homes' performance against the indicators to assess how they can improve quality of life, consumer engagement and lived experience in their organisation," Mr Richter said.
Providers can also use the platform to respond to resident feedback and demonstrate their commitment to providing quality care, Mr Richter said.
He said it was important to capture the voices of aged care recipients.
"Whilst things like clinical indicators and length of stay are important measures, they fail to capture the experience of residents and do not tell us whether they are living meaningful lives," he said.
CarePage founder Lauren Todorovic said the platform filled a gap in easily accessible resources for residents, family, friends and carers to compare residential aged care experiences.
"We aim to empower consumers through greater transparency and access to information, so they can make better-informed decisions when it comes to choosing care for a loved one or themselves," she said.
Free features for providers include access to benchmarking reports, customer experience and quality of life insights.
Comment below to have your say on this story
Subscribe to Australian Ageing Agenda magazine and sign up to the AAA newsletter