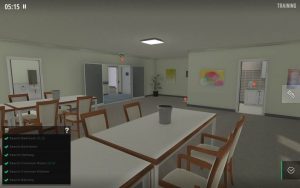 Aged care workers will soon be able to play a video game on their computer, tablet or smart phone to improve knowledge and skills in safety and minimise risk in the workplace.
The app, Safe Environments, is a competency-based serious game that has been designed to meet the national safety standards and training needs of aged and community care workers.
It features over 150 randomly generated hazards in 11 different categories and a variety of scenarios to improve the user's knowledge and skills in managing safety in different environments such as a facility, a client's home or public park.
Safe Environments has been developed by researchers from the University of Sunshine Coast in conjunction with developers Bondi Labs and home and community care provider Suncare.
As users navigate through a particular environment they need to identify and categorize risks, such as a slip and trip or poison hazard, and then look at how to mitigate the risk.
Users are presented with different scenarios each time they play so rote learning is not possible, said Associate Professor Patrea Andersen from the university's School of Nursing, Midwifery and Paramedicine.
"We want to try to engender the ability to critically think through scenarios for people in different environments," Dr Andersen told Australian Ageing Agenda.
"In terms of application to the real world it means workers should be able to go into a number of different environments and apply the skills and knowledge they have learnt through playing the game," she said.
At the end of the game users are given a breakdown of their score, showing their strengths and weaknesses and information on all the hazards they missed or got wrong to help improve their knowledge and skills, she said.
Use as part of ongoing training
Dr Andersen said aged care providers could use the competency-based training as part of an assessment process, as the university does with its tertiary students, or to inform further training.
"There are built in analytics. Providers can look at particular areas of the game and particular types of hazards that might have been particularly problematic and inform professional development."
The team hopes the game provides an engaging way for students and workers to learn about safety and have a positive impact on the health and welfare of the community.
Research is currently underway with aged care providers to investigate the success of the app and how it translates to outcomes for clients.
An international research project including four Australian universities as well as institutions in Canada and the US will also test the efficacy of the Australian-developed app among tertiary students.
Launching soon
Safe Environments is part of a suite of games that the university is developing for students in a range of health-related courses and application in industry.
The app is due to be launched soon.
Follow AAA for further coverage of the launch of the app.
Want to have your say on this story? Comment below. Send us your news and tip-offs to editorial@australianageingagenda.com.au 
Subscribe to Australian Ageing Agenda magazine